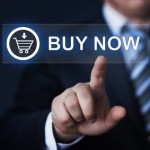 Ready or not… higher interest rates are coming.
The Fed is poised to end its zero-interest-rate policy (ZIRP) this week.  This policy has been in place since the 2008 financial crisis.
Under ZIRP, the Fed has kept interest rates near 0% and used periods of quantitative easing or bond buying to help boost asset prices and economic growth.
This has been a true test of the effectiveness of monetary policy in the face of economic crisis.
There have been some side effects like excessive risk taking in asset markets and growing income inequality between the rich and poor.
But overall the policy has been a success.  Since 2009, the US economy has created more jobs than every other advanced economy combined!
And that's been accomplished without much help from fiscal stimulus that is controlled by politicians in Washington.
As we start down the path of the first interest rate hiking cycle in nearly a decade, there will be opportunity and pitfalls.
Economic Data Impacting Sector ETFs To Buy In December
This is no ordinary rate cycle…
The early stages of the cycle are simply normalizing rates.  There is no precedent for what this means because the US has never maintained a ZIRP for this duration or in this way before.
All signs point to the Fed increasing rates gradually.  Interest rates will still be below historic averages for some time.
Keep in mind, the economy must continue to grow and strengthen in order for the Fed to continue raising interest rates.
The best opportunities will come from sectors with well-capitalized companies.  These companies have the potential to grow through a rising rate cycle.
Price Action Signals Sector ETFs To Buy In December
The S&P 500 is hugging the 200-day moving average.
This moving average is acting like a magnet over the last few months.  Anytime the index gets too far away it snaps back in the other direction and the momentum caries it beyond the moving average until it snaps back the other direction.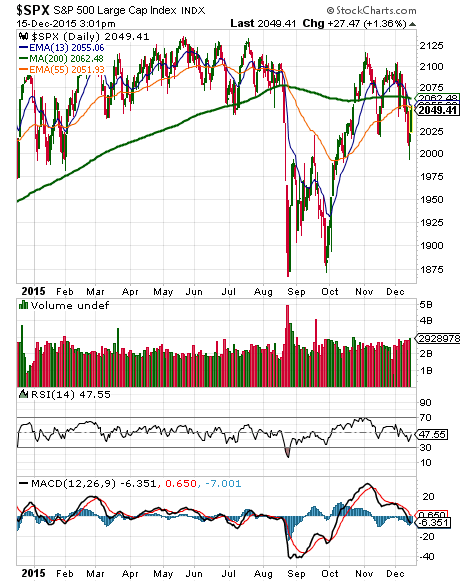 The relative strength of the S&P 500 has been declining since early November when it reached 70… a level indicative of an overbought market.  It's now below 50 and trending lower.   But the RSI would need to hit 30 before it indicates the market is oversold.
The MACD indicator is in the same boat.  It indicated markets were overbought in October.  Since then, market momentum has waned.  But it hasn't given us a signal that this trend has ended.
These Are The Sector ETFs To Buy In December
Identifying industries with positive macroeconomic themes is a critical part of the Sector ETF Trader strategy.
Sector ETF Trader identifies high-return potential ETFs based on a number of macro, fundamental, and technical indicators.  These indicators offer you the opportunity to participate in some very large moves in a relatively short amount of time.
And because it focuses on ETFs, you get the advantages of both stocks and mutual funds, without the problems of high fees and over-concentration.
Rather than taking a 'shotgun' approach to the market, I use a time-tested system like a scalpel to carve out those 'hidden gems' with the greatest chance of spectacular profits.
You can develop an ETF trading system like mine or you can let me do the heaving lifting for you.
It's not too late to pick up the most recent issue of the Sector ETF Trader.  But you'll need to take action now to avoid missing out.  Click this link to find out more about this easy method to identifying the most profitable sector ETFs around!
Good Investing,
Corey Williams
Note: Corey Williams writes and edits ETFTradingResearch.com.  Sign up for our free ETF reports and free e-letter at http://www.etftradingresearch.com/free-sign-up.  We're devoted to helping you make more money from ETFs.
Category: Sector ETFs