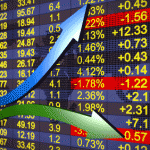 Over the past few weeks, investors have had a lot of information to digest.
There's been the usual economic data. The most troubling was the revision to US GDP that said the US economy actually shrunk at an annualized pace of 2.9% in the first quarter… the biggest drop since 2009.
The main reason for the sluggish quarter was a cold winter and a smaller than expected increase in healthcare spending that led to much lower than expected consumer spending.
But that's in the rearview mirror… we're more concerned about where the economy is going than where it has been.
On that front, the economic data shows a much more positive tone.
We've seen data from housing, industrial production, employment, and consumer sentiment all trending in the right direction.
What's more, the Fed under new Chair Janet Yellen gave the stock market a boost when she clarified the Fed's plan for short term interest rates. At this point, it doesn't appear that the Fed will be raising rates until mid-2015. And that's if the economy picks up steam from here.
Those positives have been offset to some degree by the violence and political unrest in Iraq and Ukraine. The uncertainty created by these events has shown up in crude oil prices that have climbed above $105 per barrel.
As a result, the S&P 500 hasn't been able to build on bullish momentum it had established over the last month. And we've seen the performance of individual sectors diverge over the last week.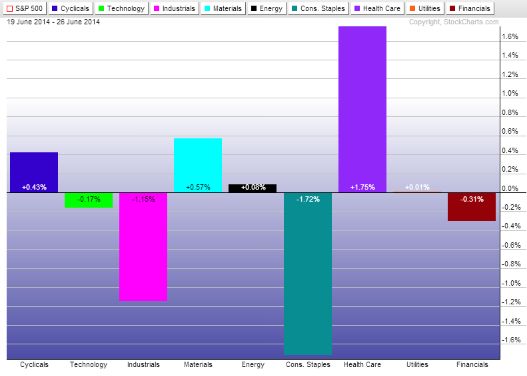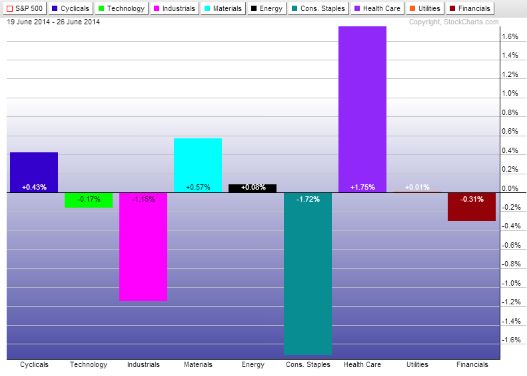 As you can see, health care led all sectors with a 1.75% gain over the last week while consumer staples and industrials led to the downside with losses of 1.72% and 1.15% respectively.
Clearly, the recent economic data and geopolitical events are at odds with one another right now. It's creating some fluctuations in the performance of individual sectors. And it's keeping the S&P from breaking out to new highs.
Here's the thing…
There's still reason to be optimistic about the future.
Don't forget, the housing market has more room for improvement, consumers are in much better shape financially than they were a few years ago, and the austerity among state governments that led to massive decreases in government jobs like teachers, police, and firefighters has ended.
Keep your eye on the big picture… there's still room for stocks to move higher from here.
Good Investing,
Corey Williams
Category: ETFs, Sector ETFs, What's Going On?