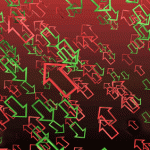 Last week, total inflows into US ETFs outpaced outflows by $6.5 billion.  Once again the top gaining ETFs were emerging markets, while the biggest losers were ETFs with momentum stocks.
Fund flows are a valuable indicator of what traders are thinking.  It takes a lot of buying or selling to drive millions or even billions of dollars into or out of individual ETFs.
Fund flows are something traders use to find trends and gauge investor sentiment.  And it can help you pinpoint which ETFs could be next to make a big move higher or lower.
For the third week in a row, investors poured money into iShares MSCI Emerging Markets (EEM).  An eye-popping $2.9 billion flooded into EEM last week alone.  And the total over the last three weeks is nearing $5 billion!
It looks like emerging markets could be the next cycle leader. 
And the best part is the inflows into emerging markets ETFs gave us an early indication of this new phase.  This is why we track the weekly inflows and outflows – we're looking for this type of thing.
Right now, emerging market stocks are cheap compared to US stocks.  In fact, many emerging markets were priced for a crisis – a crisis that never happened – and now a great rotation into these undervalued stocks is underway.  
By and large, the money that's finding its way into emerging markets is coming out of US momentum stocks.  In fact, the PowerShares QQQ (QQQ), an ETF full of momentum stocks, led all ETFs with $1.7 billion in outflows last week.
Coming into 2014, many hedge funds were heavily invested in growth stocks.  But over the last month, hedge funds have been unwinding these bullish bets on growth.  They're rebalancing and moving money out of growth stocks. 
One thing's for sure, investors have soured on the high flying growth and stocks with high valuations.  And we'll likely see more outflows from QQQ and other ETFs that focus on growth going forward.
That wraps up this week's ETF fund flows…
Keep in mind, there's a lot of information about ETF fund flows.  And it can be a very useful tool as long as you know what you're looking for.
Good Investing,
Corey Williams
Category: ETFs, Foreign Market ETFs, Market Analysis