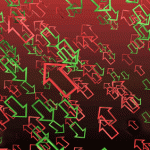 ETF outflows outpaced inflows again last week as bullish momentum fades.
The S&P 500 finished the week modestly higher than it began.  But sellers dominated the market on Friday.
Fund flows are a valuable indicator of what traders are thinking.  It takes a lot of buying or selling to drive millions or even billions of dollars into or out of individual ETFs.
Fund flows are something traders use to find trends and gauge investor sentiment.  And it can help you pinpoint which ETFs could be next to make a big move higher or lower.
One ETF that had strong inflows was the iShares MSCI Emerging Markets (EEM).  More than $1 billion flowed into EEM last week.  It was the second week in a row that EEM had over $1 billion in net inflows. 
The large inflow of money into EEM is a very positive sign for emerging markets.  The last time we saw similar inflows into emerging markets was last summer.  And it sparked a 20% surge to the upside in EEM. 
The appeal of emerging markets is being helped by weaker than expected economic data out of the US.  The latest data shows US economic activity is not accelerating as quickly as expected. 
As the US market loses momentum, investors are opting to take a chance that cheap emerging markets will outperform in weeks ahead. 
Friday's selloff in US equities hit small cap stocks especially hard.  The iShares Russell 2000 (IWM) was down 2.35% for the day.  And the $1.2 billion outflow from IWM was more than double the size of the next biggest outflow.   
The large outflow from IWM is a warning sign that investors risk appetite for US stocks is declining.  And it could be a warning sign that there's more downside for US stocks.
What's more, Friday's decline did severe damage to the technical picture for IWM. 
It's now below the 20, 50, and 100-day moving average for the second time in the last two months.  The last time IWM was below all three of these technical support levels prior to these two occurrences was December of 2012. 
This is a clear indication that the bullish market momentum that dominated the market in 2013 has faded.  And the US markets are now at risk of a much bigger selloff.    
That wraps up this week's ETF fund flows…
Keep in mind, there's a lot of information about ETF fund flows.  And it can be a very useful tool as long as you know what you're looking for.
Good Investing,
Corey Williams
Category: ETFs, Foreign Market ETFs, Market Analysis