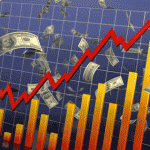 A week into the second quarter of 2014, the S&P 500 has managed to stay positive for the year.  It's up about 0.7% year-to-date right now. 
Just because the large cap index hasn't done much this year, doesn't mean there hasn't been ETFs on the upswing.  That's one of the great things about ETFs… they give you easy access to other types of investments, not just US stocks.
Let's take a look at three of the best performing ETFs so far in 2014… 
iPath Dow Jones UBS Coffee ETN (JO)
JO's the top performing ETF that doesn't use leverage or inverse of the index so far this year.  It's up a whopping 79.7% year-to-date. 
This ETN is designed to track the return of one futures contract on commodity of coffee.
As an ETN, JO works in a way similar to that of an ETF.  But it's actually a type of debt issued by UBS.  The ETN returns are based on the performance of the Dow Jones-UBS Coffee Total Return index.
The ETN structure is common among exchange traded products that track the price of a commodity.  An ETN that tracks a commodity offers some tax advantages and isn't limited in size like ETFs.   
JO's great performance this year is tied to the rising price of coffee beans. 
Drought conditions in Brazil, the world's largest coffee producer, are going to take a toll on their production.  From there, it's simple economics… the expected drop in supply is driving the price up. 
Global X Gold Explorers ETF (GLDX)
GLDX is another of the top performing ETFs in 2014.  So far this year, GLDX has shot up 32.5%. 
The strong performance is a reversal of fortunes for GLDX.  In 2013, it was down an eye-popping 64%. 
This ETF tracks the Solactive Global Gold Explorers Total Return index.  It's composed of publicly traded companies that are searching for new gold deposits.  These are typically smaller companies that are highly speculative and volatile.
The primary reason for the resurgence of GLDX is the rise in gold prices.  The price of physical gold has increased from around $1,200 at the beginning of the year to $1,300 today.  
Needless to say, any gold deposits these explorers find are worth more if gold is worth $1,300 instead of $1,200. 
Market Vectors Indonesia Small-Cap (IDXJ)
IDXJ is up an impressive 30.2% year-to-date.  It's the best performing non-leveraged ETF that tracks stocks. 
This ETF tracks the performance of the small-cap segment of the Indonesian stock market.  Any time you combine emerging markets and small cap stocks, you're sure to see some volatility and IDXJ is no different. 
Last year when investors were pessimistic about Indonesia because of QE tapering in the US, their stock market was hit hard by outflows of foreign capital. 
Recently, foreign investors have become optimistic about Indonesia and foreign investors are once again flooding their financial markets with cash. 
The main reason for the turn in investor sentiment is the nomination of the popular Jokowi for President.  He's seen as someone who will strengthen the country's infrastructure and put a lid on corruption.
The run up to the election in July should be a good time to invest in IDXJ.   
Here's the upshot…
The returns on the S&P 500 have stagnated in 2014.  But there are still ETFs that are delivering big returns… you just have to know where to look for them.
Good Investing,
Corey Williams
Category: Commodity ETFs, ETFs, Foreign Market ETFs