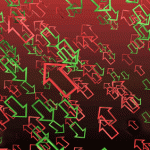 Today we're taking a look at ETF fund flows in ProShares Ultra MidCap 400 (MVV) and iShares MSCI Emerging Markets (EEM).
ETF fund flows are a valuable indicator of what traders are thinking.  It takes a lot of buying or selling to drive millions or even billions of dollars into or out of individual ETFs.
Fund flows are something traders use to find trends and gauge investor sentiment.  And it can help you pinpoint which ETFs could be next to make a big move higher or lower.
While the markets were selling off last week, an unusual name showed up at the top of the ETFs with the largest inflows last week.  ProShares Ultra MidCap 400 (MVV) had $949 million in net inflows last week.
MVV is a leveraged ETF.  It's designed to move twice as much as the S&P MidCap 400 Index.  The actual performance can differ from the desired performance if the ETF is owned longer than a day. 
So the influx of money is likely a short term bet on the direction of the MidCap 400 index.  Unfortunately for whoever put money into MVV last Thursday, this trade hasn't worked out. 
The vast majority of the money came into MVV on Thursday. 
MVV closed at $63.99 on Thursday.  And by the end of the day on Friday, MVV was at $60.68.  The 5% drop in one day clearly isn't what these traders were hoping for. 
This is the first time in months bullish bets have been run over like this.  The correction has soured the mood on Wall Street.  Investors that were ultra bullish to start the year are beginning to turning fearful.
One ETF that investors pulled money out of last week was the iShares MSCI Emerging Markets (EEM).  Investors pulled $757 million out of EEM last week.
It's a trend that's been playing out for EEM over the first few weeks of 2014.  So far this year, EEM has shed $2.1 billion of assets.
The outflow came as EEM dropped 3.9% last week… the biggest weekly loss for EEM since June.
The drop in emerging markets isn't due to any one thing.  It's a combination of a number of negative events that have knocked emerging market stocks and the ETFs that track them down.
The ugliest of all the reasons is the massive outflow of foreign investment in emerging markets.  The bottom line is emerging markets are dealing with a bunch of issues that are keeping economic growth depressed relative to developed markets.
All things being equal, investors would prefer to invest in developed markets over emerging markets.  The only reason they're willing to put money into emerging markets is for better growth opportunities.
Right now there doesn't appear to be better growth opportunities in emerging markets.  And as long as that perception holds true, there's likely more pain in store for EEM and emerging market stocks.
That wraps up this week's ETF fund flows…
Keep in mind, there's a lot of information about ETF fund flows.  And it can be a very useful tool as long as you know what you're looking for.
Good Investing,
Corey Williams
Category: ETFs, Market Analysis