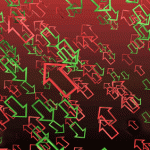 February was an interesting month for ETF asset flows.
The month began with the S&P 500 down more than 6% from the highs.  And fear was dominating investor emotions.
By the middle of the month, the tide had turned.  Stocks were on the rebound and fear began to wane.
And by the time February came to a close, the large cap index was at a new all-time high and greed was once again dominating investors' emotions.
The rollercoaster ride of emotion and stock prices didn't keep investors away from putting money to work in ETFs.  In fact, more than $19 billion flowed into ETFs during the month.  And total assets in US ETFs hit a record high of more than $1.7 trillion.
Treasury funds were the big winners in February.  The iShares 3-7 Year Treasury Bond (IEI) and iShares 1-3 Year Treasury Bond (SHY) each saw inflows of more than $3.5 billion early on in the month. 
These inflows were driven by the uptick in fear at the beginning of the month.  But IEI and SHY held onto those assets even after stocks began to rebound later in the month. 
PowerShares QQQ (QQQ) and the iShares Russell 2000 (IWM) saw the most inflows among stock based ETFs.  QQQ had $1.7 billion in inflows while IWM had $1.5 billion. 
Needless to say, by the time the month was over, it turned out to be a very strong month for ETFs across the board. 
The ETFs that saw the most out flows in February were US stock ETFs.  iShares Core S&P Mid-Cap (IJH), iShares Core S&P 500 (IVV), and SPDR S&P 500 (SPY) combined to lose more than $8.5 billion in assets.
The vast majority of these outflows occurred during the first few days of the month when fear was running high.  As the emotional barometer began to turn back toward greed, money began to flow back into these funds.  But not enough to erase all of the steep losses incurred during the selloff.
One thing's for sure, the net inflow of $19 million into ETFs during a volatile time for the markets shows ETFs continue to grow in popularity. 
And for good reason…
ETFs have an edge over mutual funds because they can be traded intraday like a stock and you can easily see what assets the ETF holds.  They also provide an easy way to trade in and out of bonds.  And they have the edge over stocks because they provide instant diversification. 
That wraps up this week's ETF fund flows…
Keep in mind, there's a lot of information about ETF fund flows.  And it can be a very useful tool as long as you know what you're looking for.
Good Investing,
Corey Williams
Category: ETFs, Market Analysis