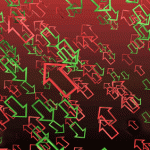 Today we're taking a look at ETF fund flows in iShares S&P Mid-Cap ETF (IJH) and iShares 3-7 Year Treasury Bond ETF (IEI).
ETF fund flows are a valuable indicator of what traders are thinking.  It takes a lot of buying or selling to drive millions or even billions of dollars into or out of individual ETFs.
Fund flows are something traders use to find trends and gauge investor sentiment.  And it can help you pinpoint which ETFs could be next to make a big move higher or lower.
Let's take a look at two ETFs experiencing large inflows or outflows since the US government shutdown.
iShares S&P Mid-Cap ETF (IJH) has seen the most inflows since October 1st.  Investors have poured $2.5 billion into it this month.
The vast majority of money came into IJH on the first day of the month.  It was likely due to an institutional investor rebalancing their portfolio or positioning for a rise in mid-cap stocks over the rest of 2013.
Over the last month, the S&P mid-cap stocks have been outperforming the large-cap stocks in the S&P 500.  During that time, IJH is up 1.5% while the S&P 500 has been flat.
The relative strength of mid-cap stocks bodes well for their future performance.  And will likely lead to them finishing the year with better gains than their large-cap brethren.
IJH is currently trading of $125.65 per share.  It's just below the all-time high of $126.28.  A breakout to a new high would likely propel IJH 5% or 6% higher over the final months of the year.
iShares 3-7 Year Treasury Bond ETF (IEI) has led the way with more than $2.6 billion in redemptions so far this month.  The outflows have cut the amount of assets in IEI nearly in half.
IEI has experienced a big spike of inflows or outflows on the 1st day of the month during several months this year.  And those bets have gotten bigger in August, September, and October.
Judging by the pattern of inflows and outflows – at least one institutional investor has been using IEI to profit from fluctuating Treasury bond prices.
The recent outflow indicates they believe the recent run up in Treasuries following the Fed's decision to delay the taper is over.  And that the government shutdown and the looming battle over the debt ceiling could lead to a selloff in Treasuries this month.
So far this month, IEI has drifted lower from $121.33 to around $120.92 today.
That wraps up this week's ETF fund flows…
Keep in mind, there's a lot of information about ETF fund flows.  And it can be a very useful tool as long as you know what you're looking for.
Good Investing,
Corey Williams
Category: Bond ETFs, ETFs, Market Analysis