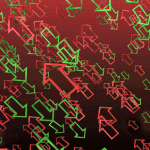 Today we're taking a look at ETF fund flows in iShares MSCI Emerging Markets (EEM) and SPDR S&P 500 (SPY).
ETF fund flows are a valuable indicator of what traders are thinking. It takes a lot of buying or selling to drive millions or even billions of dollars into or out of individual ETFs.
Fund flows are something traders use to find trends and gauge investor sentiment. And it can help you pinpoint which ETFs could be next to make a big move higher or lower.
Let's take a look at two ETFs experiencing large inflows or outflows ahead of a US government shutdown.
iShares MSCI Emerging Markets (EEM) collected the biggest share of inflows last week. It collected a modest $584 million. But by and large, redemptions outpaced creations of ETFs by a wide margin.
The inflow of investor money came as EEM drifted 3% lower from a high of $42.38 on Monday to a low of $41.11 on Friday.
Clearly, some investors are looking past the threat of a US government shutdown and using it as an opportunity to pick up shares of EEM at a lower price.
And for good reason… market selloffs triggered by the idiots in Washington have proven to be temporary and good buying opportunities.
What's more, the Fed's decision to delay the taper and keep interest rates low for longer than expected should help emerging markets.
SPDR S&P 500 (SPY) led the way with more than $2 billion in redemptions last week. It was a drop in the bucket of the massive $147 billion fund. But a large outflow nonetheless.
The outflow of money coincided with a 1% drop in SPY from a high of $170.65 on Monday to $168.91 at the close on Friday.
The hot money that came out of SPY was likely a result of the looming US government shutdown. Short term traders don't have the appetite to hold the basket of large-cap US stocks as politics take center stage this week.
More than likely, traders are banking on a short term selloff in SPY. They're hoping to re-buy after a selloff.
A good technical level to get long SPY is around $165.00. This price represents support of the uptrend made by connecting the swing lows from earlier in the year.
Needless to say, trying to invest around what the morons in Washington are doing isn't an ideal situation. But if history is any guide, any selloff should be short lived.
That wraps up this week's ETF fund flows…
Keep in mind, there's a lot of information about ETF fund flows. And it can be a very useful tool as long as you know what you're looking for.
Good Investing,
Corey Williams
Category: ETFs, Foreign Market ETFs, Index ETFs
Corey Williams is the editor of Sector ETF Trader, an investment advisory service focused on profiting from ETFs and the economic cycle. Under Corey's leadership, the Sector ETF Trader has become one of the most popular and successful ETF advisories around. In addition to his groundbreaking service, Corey is the lead contributor to ETF Trading Research, where he shares his insights about ETFs and financial markets three times a week. He's also a regular contributor to the Dynamic Wealth Report and the editor of one the hottest option trading services around – Elite Option Trader.