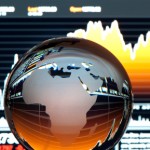 Optimism about European and US economies is heading in opposite directions.
Last week the European commission said confidence rose faster than expected and was at the best level since August 2011. 
On the other hand, US consumer confidence fell for the third month in a row after peaking in June.
And for good reason, US companies continue to focus on the wrong things.  They're stressing productivity and hoarding cash instead of expanding and growing their business.
This has left millions of Americans out of work and kept household incomes depressed.  In fact, the median US household income has fallen in each of the last five years when adjusted for inflation.  It's now 10% below the2007 peak of $55,627 at $51,017 today.
Amazingly, our European counterparts have seen their median household grow by more than 5% between 2007 and 2011 (the latest available data).
Needless to say, this sets the stage for a strong economic recovery in Europe as they emerge from a year and half long economic slump.  Let's take a look at three of the top performing European ETFs so far this year.  
iShares MSCI Ireland Capped ETF (EIRL)
EIRL is the top performing European ETF this year.  It's up 33.5% year-to-date to $32.95 per share.
As the name suggests, EIRL only invests in Irish stocks.  The ETF holds 25 stocks with the largest weighting given to materials (31%), industrials (25%), and consumer staples (20%). 
It has an expense ratio of 0.5% and a dividend yield of 1.15%.    
WisdomTree Europe SmallCap Dividend Fund (DFE)
DFE is another ETF that's quietly outperforming much large European ETFs.  It's up 27% year-to-date to $50.60 per share.
This fund is composed of the smallest 25% of European stocks based on market capitalization and weighted based on annual cash dividend payments. 
The largest weighting is given to industrials (26%), consumer discretionary (16%), financials (16%), and information technology (14%).
It has an expense ratio of 0.58% and a dividend yield of 3%.
iShares MSCI United Kingdom Small-Cap ETF (EWUS)
EWUS is another small-cap focused ETF that has performed well this year.  It's up 25.3% year-to-date to $38.02 per share.
The ETF is composed of stocks in the bottom 14% of the British securities market based on market capitalization.  It holds 237 stocks.  The largest weighting is in consumer discretionary (25%), industrials (20%), and financials (20%).
It has an expense ratio of 0.59% and a dividend yield of 2.83%.
Here's the upshot…
Confidence in European and US economies are moving in opposite directions.  In my opinion, this gives European stock ETFs a leg up on US stock ETFs.  And it should lead to continued strong performance in the top performing European ETFs.
Good Investing,
Corey Williams
Category: ETFs, Foreign Market ETFs
Corey Williams is the editor of Sector ETF Trader, an investment advisory service focused on profiting from ETFs and the economic cycle. Under Corey's leadership, the Sector ETF Trader has become one of the most popular and successful ETF advisories around. In addition to his groundbreaking service, Corey is the lead contributor to ETF Trading Research, where he shares his insights about ETFs and financial markets three times a week. He's also a regular contributor to the Dynamic Wealth Report and the editor of one the hottest option trading services around – Elite Option Trader.