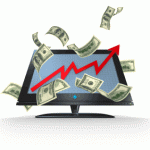 One of this week's top performing non-leveraged exchange traded funds is the Market Vectors Indonesia Small-Cap ETF (IDXJ).  It has gained 4.8% for the week based on Thursday's closing price.
But that's not all…
IDXJ is also one of the best performing ETFs in 2013.  With a year-to-date return of 28.9%, this ETF has tripled the gains of the SPDR S&P 500 (SPY) so far this year.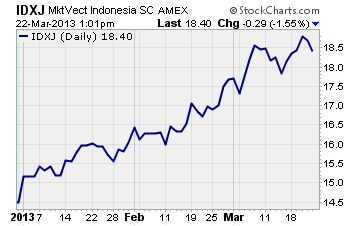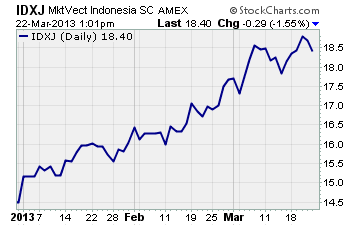 How is an ETF of Indonesian small-cap stocks outperforming the top 500 companies in the US?
Let's take a closer look at Indonesia and IDXJ…
First of all, Indonesia has the fastest growing Asian economy outside of China and India.  While the US economy is expected to grow 2% this year at best, the World Bank's forecasting blistering growth of 6.2% for Indonesia.
If true, 2013 will be the fourth straight year of better than 6% annual GDP growth for the island nation.
The Indonesian economy is benefiting from several growth friendly trends.  Heavy infrastructure spending by the Indonesian government is one.  Steady annual increases in private consumption and foreign investment are two others.
What's more, one Wall Street firm believes Indonesia's economy will continue growing rapidly for years to come.  Citi Research just released a report stating Indonesia could grow into one of the top ten economies on the planet by 2025.
Here's another reason why IDXJ is surging…
Morgan Stanley recently named Indonesia the top pick in Southeast Asia for stock investors.  The Wall Street giant sees capital spending rising 15.7% in 2013.  And they're forecasting earnings growth of 18.2% after last year's 16.2% increase.
As a result, Morgan Stanley expects the MSCI Indonesia stock index to gain 13% from current levels by the end of the year.  No wonder investors are piling into IDXJ.
With that said, there are risks to investing in Indonesia.
The country's current infrastructure is aging and inadequate.  Without further investment in housing and transportation it will be difficult to encourage further migration from the countryside to urban areas.
If urbanization growth slows, it will be tough for Indonesia to maintain, let alone boost, its economic growth rate.
Some global analysts are also concerned that Indonesia's rapid growth is merely a temporary by-product of China's thirst for the country's commodities.  If China's economy continues slowing, these analysts believe demand for Indonesian commodities will likely taper off as well.
If that happens, it would be a significant blow to the country's economic growth potential.
At the moment, however, investors appear to be shrugging off these concerns.  And IDXJ is moving higher in a strong uptrend as a result.
If you're looking to add emerging market exposure to your portfolio, IDXJ is certainly one ETF to investigate.  Even though it has surged to start the year, it may have plenty of upside potential remaining.
Profitably Yours,
Robert Morris
Category: ETFs, Foreign Market ETFs, What's Going On?