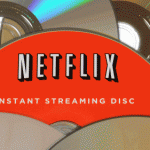 Netflix (NFLX) has been on fire this year. 
Their internet television network service streams TV shows and movies directly on TVs, computers, and mobile devices. 
Last quarter sales jumped 20% and earnings per share jumped a whopping 345% over the same quarter last year.  And the stock has seen a similar increase – NFLX has soared 353% over the last year.
Needless to say, NFLX has a lot of bullish momentum and is one of the highest flying growth stocks around. 
However, the deadlock in Washington over the budget and upcoming debt ceiling has taken a toll on high flying growth stocks lately.  After reaching a high of $334.50 on October 3rd, NFLX has fallen nearly 15% to around $285.63. 
The recent fall could be a great buying opportunity.  It's usually a good time to buy stocks when fear is driving stocks lower.  And the recent rhetoric of 'catastrophic consequences' certainly can incite fear among investors. 
If buying NFLX's high priced stock is a little too risky, you might want to buy an ETF that holds NFLX.  Remember, ETFs hold a basket of stocks.  By diversifying your investment over the entire basket, you can eliminate some of the risk of just owning NFLX by itself. 
Investors who want to use an ETF to invest in NFLX have a few options.  Let's take a look at two ETFs with large holdings of NFLX. 
The ETF with the largest percentage of holdings currently devoted to NFLX is First Trust ISE Cloud Computing Index Fund (SKYY).  It has 4.11% of net assets in NFLX.
The rest of SKYY's 39 holdings are made up of other cloud computing companies. 
The majority are pure play cloud computing companies.  A portion is devoted to companies that focus outside the cloud but provide goods and services that utilize cloud computing technology.  And 10% of the index is made of large technology conglomerates. 
The fund is equal dollar weighted.  In other words, it invests an equal amount in each holding.  And it's rebalanced twice per year.  It has an expense ratio of 0.6%. 
SKYY is up 21% year-to-date and has recently pulled back more than 6% from the 52-week high of $25.35 to around $23.70. 
Another ETF with a portion of their holdings dedicated to NFLX is PowerShares NASDAQ Internet Portfolio (PNQI).  As of today, NFLX makes up 4.01% of PNQI's holdings.   
The index PNQI tracks is made up of the largest and most liquid US-listed companies engaged in internet-related businesses and that are listed on one of the major US stock exchanges.
The fund is made up of a nice mix of large-cap, mid-cap, and small-cap growth stocks.     
PNQI is up 42% year-to-date.  It hit a 52-week high of $63.33 on October 3rd, and has pulled back 7.7% to $58.47.  It also has an expense ratio of 0.60%.
Here's the bottom line…
NFLX has been one of the year's hottest growth stocks.  But buying the stock comes with some company specific risk that you might not want to expose yourself to. 
Using an ETF like SKYY or PNQI can give you exposure to NFLX and a basket of other internet stocks that diversifies away some of the company specific risk.   
Good Investing,
Corey Williams
Category: ETFs, What's Going On?