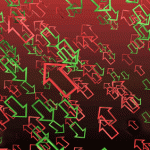 Today we're taking a look at ETF fund flows in iShares MSCI EAFE (EFA) and SPDR S&P 500 (SPY).
ETF fund flows are a valuable indicator of what traders are thinking.  It takes a lot of buying or selling to drive millions or even billions of dollars into or out of individual ETFs.
Fund flows are something traders use to find trends and gauge investor sentiment.  And it can help you pinpoint which ETFs could be next to make a big move higher or lower.
Let's take a look some interesting fund flows from the leading ETFs from August 12th to August 16th.
iShares MSCI EAFE (EFA) led all ETFs with $591 million in net flows into it last week.  EFA was the leader among many non-US developed market stock ETFs to see money flood into it last week.
That's two week in a row where European stocks EFFs are leading the way in gathering assets.  And it's a clear indication big money managers are moving money into them.
EFA tracks a market-cap-weighted index of developed-market securities based in Europe, Australia, and the Far East. It excludes the US and Canada.
So far this year, EFA's 10% gain is underperforming the S&P 500 17.5% gain by a wide margin.  But over the last few weeks, their roles have reversed.
Now EFA is showing strength relative to the S&P 500.  Over the last four weeks, EFA has gained 1.5% while the S&P lost 2.25%.
In short, this is the type of dramatic change in ETF fund flows we're looking for.  
The inflow of funds into EFA and similar ETFs is a clear indication of bullish investor sentiment in European stocks.  And it's likely an indicator we'll see a big move higher in EFA in the weeks to come.
Where are investors getting all of the money to invest in Europe?
Simple… they're selling US stock ETFs!
Redemptions of the largest ETF of all, SPDR S&P 500 (SPY), hit a whopping $6.5 billion last week.  There's no doubt about it, that's a lot of cash being pulled out of US stocks.
At this point one thing is clear, the bullish momentum that carried SPY nearly straight up week after week this year has vanished.
Today there seems to be more questions than answers about US stocks –
Can companies continue to grow earnings without an uptick in revenue growth?  Is the US economy strong enough to grow without assistance from the Fed?  Will higher interest rates shock consumers and business?  Have US stocks simply become too richly valued compared to the alternatives?
Or is this simply a summer swoon for US stocks as traders and money managers leave Wall Street for some R&R on the beach?
Whatever the case, the fund flows indicate investor sentiment on European stocks has turned bullish.  And if it continues, will likely lead to superior gains in EFA and similar ETFs compared to SPY during the second half of the year.
That wraps up this week's ETF fund flows…
Keep in mind, there's a lot of information about ETF fund flows.  And it can be a very useful tool as long as you know what you're looking for.
Good Investing,
Corey Williams
Category: ETFs, Foreign Market ETFs, Index ETFs, What's Going On?