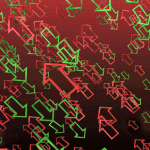 The stock market's ugly start to 2016 continued in February.  The S&P 500 is down 4.3% this year but it has managed a 3.7% gain over the last month.
Let's dive into the details of the February ETF fund flows and other sentiment indicators that are driving the market action.
The Emotion Driving February ETF Fund Flows
We track several indicators of fear and greed.  In January, indicators of fear outweighed indicators of greed.  Some of the fear has abated in February but we're still a long way from the risk-taking animal spirits that we typically see when greed is driving the market.
One of the most encouraging signs is few stocks at 52-week lows.  Nearly 10% of all stocks were at 52-week lows a few weeks ago.  Even beaten down stocks have rallied over the last few weeks.  Now, only a handful of stocks are at 52-week lows.
ETFs With The Largest Inflows In February
The ETF with the most net-inflows of money in February is SPDR Gold $GLD.
This safe haven precious metal ETF enjoyed net inflows of $3.3 billion in February.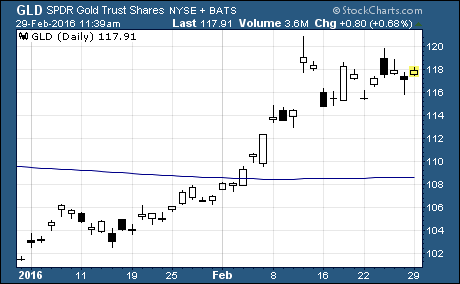 Needless to say, investors flooding into GLD is a clear indication of fear in the market.  
ETFs With The Largest Outflows In February 
First Trust NYSE Arco Biotechnology $FBT had the largest outflows of any ETF in February.  FBT saw net-outflows of $1.4 billion.
Biotech stocks are among the riskiest momentum stocks in the market.  The large outflows are yet another indicator of fear or lack of risk appetite.
Here's the bottom line…
The stock markets poor start to the year has damaged investor psychology.  We have seen some indicators of extreme fear abate over the last few weeks.  But there's no sign of greed.  And the ETF fund flows indicate fear is still dominating the market.
Good Investing,
Corey Williams
Note: Corey Williams writes and edits ETFTradingResearch.com.  Sign up for our free ETF reports and free e-letter at http://www.etftradingresearch.com/free-sign-up.  We're devoted to helping you make more money from ETFs.
Category: Market Analysis
Corey Williams is the editor of Sector ETF Trader, an investment advisory service focused on profiting from ETFs and the economic cycle. Under Corey's leadership, the Sector ETF Trader has become one of the most popular and successful ETF advisories around. In addition to his groundbreaking service, Corey is the lead contributor to ETF Trading Research, where he shares his insights about ETFs and financial markets three times a week. He's also a regular contributor to the Dynamic Wealth Report and the editor of one the hottest option trading services around – Elite Option Trader.