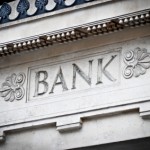 The S&P 500 closed above 2,000 for the first time ever on Tuesday. It's an impressive milestone for the large cap index.
But most people hardly even noticed…
A recent Gallup poll showed that just 7% of Americans knew that the S&P 500 was up 30% last year. Given those stats, I guess the lack of a celebratory party for the S&P hitting 2,000 shouldn't come as a surprise.
What's more, with the end of summer and the Labor Day holiday weekend approaching, the achievement has come with very little volume. In other words, this impressive new high is the Rodney Dangerfield of milestones… it gets no respect.
Nevertheless, I find the achievement impressive and the fact that nobody seems to care is evidence the bull market has room to run.
Consider this, the S&P 500's now 27% above the 2007 high. And amazingly, the S&P is up 200% since the current bull market began back in March of 2009!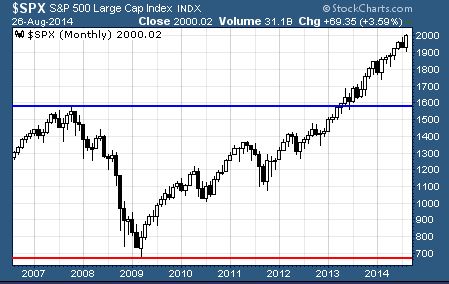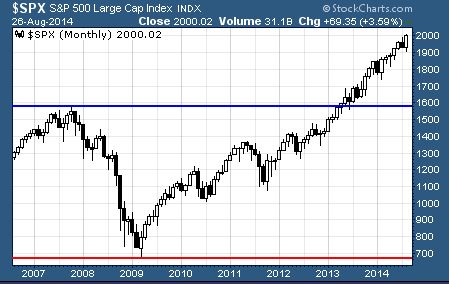 Any way you slice it, the only way an investor has been burned by the S&P 500 is by not owning it or selling it. Simply owning the S&P 500 through an ETF like the SPDR S&P 500 (SPY) has been a winning investment.
There's opportunity for investors to use ETFs to outperform broad indexes like the S&P 500… that's what I do for everyone that subscribes to my Sector ETF Trader newsletter.
I pinpoint the sector or industry ETFs that have favorable fundamentals and bullish technical setups that can outperform the S&P 500 over a period of time. My job is to keep you invested in the hottest sectors at all-times with the goal of outperforming the S&P 500.
As the S&P 500 made its push toward 2,000 over the last week, every sector but utilities helped lift the large cap index higher.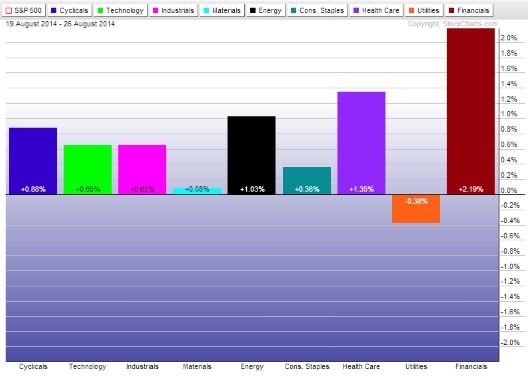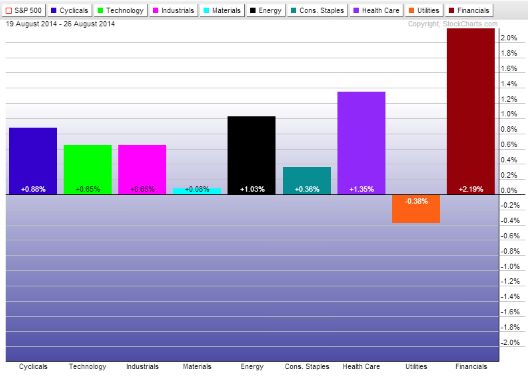 Financials provided the biggest lift with a 2.09% rally over the last week. Health care and energy stocks also produced solid gains of 1.35% and 1.03% respectively.
The strong rally for financials is especially important. The recent surge in financials was a breakout to a new all-time high. As the old Wall Street adage goes, the S&P 500 typically has a difficult time making and sustaining new highs without financials participating.
Here's the upshot…
The combination of a breakout in financials that accompanies a major milestone for the S&P 500 is a very bullish signal.   And it's a good reason to believe that the current bull market still has plenty of upside.
Good Investing,
Corey Williams
Category: ETFs, Sector ETFs, What's Going On?