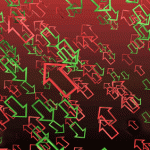 Today we're taking a look at ETF fund flows in – iShares Russell 2000(IWM) iShares MSCI Emerging Markets (EEM), and Vanguard FTSE Emerging Markets (VWO).
ETF fund flows are a valuable indicator of what traders are thinking.  It takes a lot of buying or selling to drive millions of dollars into or out of individual ETFs.
They're something traders use to find trends and gauge investor sentiment.  And it can help you pinpoint which ETFs could be next to make a big move higher or lower.

Let's take a look at three ETFs that near the top of the net inflows and net outflows from May 27th to May 31st.
Emerging markets ETFs continue to see the massive outflows.  Over the last week, investors pulled out a whopping $2.6 billion from iShares MSCI Emerging Markets (EEM) and Vanguard FTSE Emerging Markets (VWO).
These ETFs are heavily weighted toward the biggest emerging markets like China, South Korea, Brazil, and Taiwan.  In fact, the top four countries make up 55% of EEM's holdings. 
Unfortunately, emerging markets haven't had the same bullish momentum as US stocks.  EEM and VWO are both down around 7% this year. 
Clearly, China's sluggish economy is weighing heavily on emerging markets ETFs.  And until we see the Chinese economic growth accelerate, emerging markets ETFs that heavily weighted toward China will continue to struggle. 
The investors that pulled money out of emerging markets ETFs last week weren't too scared to put their money back to work.  $1.5 billion flowed into a handful of ETFs that are focused on US stocks. 
The iShares Russell 2000 (IWM) led all ETFs with nearly $600 million in inflows over the last week.  It's the largest ETF dedicated to small cap stocks with $20 billion in assets under management.
IWM is a great representation of the smallest stocks based on market capitalization.  So far this year, IWM's 16% gain has slightly outperformed the S&P 500. 
The inflow of cash into US small cap ETFs at the same time as investors are pulling money out of emerging markets ETFs is a bit unusual.  They're both considered riskier investments and they usually end up on the same side of the risk on or risk off trade. 
The divergence of emerging markets and US small caps could be an indication that investors that want to take on additional risk are more comfortable with the US economic picture than the global economy.  And if that's the case, we could see the influx of new capital into US stocks fuel another surge higher in the weeks ahead.
That wraps up this week's ETF fund flows…
Keep in mind, there's a lot of information about ETF fund flows.  And it can be a very useful tool as long as you know what you're looking for.
Good Investing,
Corey Williams
Category: ETFs, Foreign Market ETFs, Investment Style ETFs, Market Analysis