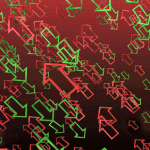 Today we're taking a look at ETF fund flows in Market Vectors Gold Miners (GDX) and iShares MSCI Emerging Markets (EEM).
ETF fund flows are a valuable indicator of what traders are thinking.  It takes a lot of buying or selling to drive millions or even billions of dollars into or out of individual ETFs.
Fund flows are something traders use to find trends and gauge investor sentiment.  And it can help you pinpoint which ETFs could be next to make a big move higher or lower.
Let's take a look at two ETFs that experienced large inflows after the Fed announced they wouldn't taper last week…
Market Vectors Gold Miners (GDX) was one of the biggest beneficiaries of the Fed's decision to postpone the taper.  Investors poured $1.151 billion into GDX over a three day period last week.
It was one of many commodity and precious metal ETFs that experienced large inflows.
GDX surged 12% from $25.47 to a high of $28.64 in the wake of the Fed's 'no taper' decision.  But the rally was short lived.  By the time the markets closed on Friday, GDX had fallen back to $25.76.
What's next for GDX?
The volatile swing in GDX may not have been entirely driven by the Fed.  On September 20th, Van Eck, the issuer of Market Vectors ETFs, made a big change to the ETF… They changed the index GDX tracks.
They expanded the list of eligible stocks to include non-US listed companies.  And they will exclude companies with a market cap of less than $750 million.
Needless to say, it's unusual to see such a large ETF – it has nearly $5 billion in assets – make wholesale changes to the investment methodology.
As of September 20th, GDX holdings consist of 32 stocks with the largest percentage weightings in Goldcorp (GG) 14.3%, Barrick Gold (ABX) 11.4%, and Newmont Mining (NEM) 9.4%.
iShares MSCI Emerging Markets (EEM) also experienced a large amount on inflows after the FOMC meeting.  It took in $1.059 billion in new assets.
EEM jumped 5% from $41.23 to $43.32 on the day of the Fed announcement.  It too has given back some of its gains and finished the week at $42.08.
One thing's for sure, the current environment just got a lot better for emerging markets.
The prospect of easy money is giving investors a reason to take another look at emerging markets.  And a number of analysts expressed bullish views on emerging markets.
As foreign capital floods back into emerging markets, it could send emerging markets ETFs soaring to new highs in the weeks ahead.
That wraps up this week's ETF fund flows…
Keep in mind, there's a lot of information about ETF fund flows.  And it can be a very useful tool as long as you know what you're looking for.
Good Investing,
Corey Williams
Category: Commodity ETFs, ETFs, Foreign Market ETFs
Corey Williams is the editor of Sector ETF Trader, an investment advisory service focused on profiting from ETFs and the economic cycle. Under Corey's leadership, the Sector ETF Trader has become one of the most popular and successful ETF advisories around. In addition to his groundbreaking service, Corey is the lead contributor to ETF Trading Research, where he shares his insights about ETFs and financial markets three times a week. He's also a regular contributor to the Dynamic Wealth Report and the editor of one the hottest option trading services around – Elite Option Trader.