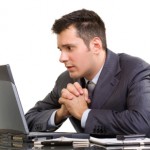 It's no secret emotions play a role in driving market action.
Investor sentiment toward a particular stock, asset class, or financial markets in general has a big impact on the markets' ebbs and flows from one day to the next. 
It's why we feature a weekly article about fund flows.  When we see lots of money flowing into or out of a particular ETF, it's a tip off that investors feel strongly about that particular investment.
But when it comes right down to it, individual investors need to control their emotions if they have any hope of being a successful investor. 
Two of the most common emotions investors experience are fear and greed.
It's only human to experience fear of losing money when an investment moves against you.  But if you get scared every time your investment goes down in price, you'll almost always end up selling near the bottom.
That's not to say you should never sell.  It simply means that the decision to sell needs to be based on solid analysis – not fear. 
And it's the same thing with greed… 
It's easy to get caught up in the excitement of a successful investment.    But throwing your sell discipline out the window because you hope you can make more money is a recipe for disaster.
Of course, you can make adjustments as conditions change.  They simply must be based on rational thought, not emotion.
Fear and greed aren't the only emotions investors need to sidestep.
A few months back I recommended buying First Trust Global Wind Energy (FAN) to members of Sector ETF Trader. 
I like FAN's upside potential because investment in wind energy is going bananas.  Last year alone, electric utilities spent a record $25 billion installing new wind turbines across the country.
What's more, the Department of Interior recently announced they will auction off the rights to develop offshore wind energy facilities in federal waters off the coasts of Massachusetts and Rhode Island. 
I think the coming boom in offshore wind energy development in combination with more traditional onshore wind farms in the US around the world will drive FAN much higher in the coming months.
Here's the thing, Robert G. wrote in to tell me…
"As a new customer to ETF Trader I feel you left out a lot of information regarding how people feel about these towers particularly when they are located or about to be located near their homes. There are quite a few negative points of view which are causing an uproar in Cape Vincent, NY., and Ontario, Canada."
Sorry to throw you under the bus, Robert.  But can you spot his mistake?
His objection to my well thought out and rational investment thesis was based on feelings.  In this case, locals don't want a wind farm in their backyard.  (I'm guessing Robert is one of them.)    
Ultimately, the "uproar" about wind towers won't have an impact on the growth in wind energy.  The US is committed to green energy.
In short, feelings and emotion have no place in investing.  Do your best to eliminate them from your investment decisions and you'll see more money in your pocket.
Good Investing,
Corey Williams
Category: ETFs, Market Analysis