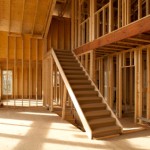 One of the biggest stories of 2014 is the weakness in small-cap stocks.
The iShares Russell 2000 ETF (IWM) is down 3% so far this year while the S&P 500 large cap index is up 4.4%. In other words, small-caps are underperforming large-caps by 7.7%.
That's the widest margin of small-cap underperformance in 16 years!
One thing that's holding back small-cap stocks is the housing market. Housing accounts for 19% of small-cap stock earnings while it only accounts for 10% of large-cap earnings.
It's easy to see how weakness in the housing market can have a greater impact on small-caps than large-caps.
And the latest data on homeownership isn't good. Homeownership in the US fell to 64.7% in the second quarter after peaking above 69% during the real estate boom in the mid-2000s.
There are a lot of things that are hurting the housing market.
The thing that's hurting housing is first time home buyers. This generation is simply putting off their first home purchase much longer than previous generations.
The average age of a first time homebuyer in 2013 was 31 years old. And the average age is expected to increase to 34 years old over the next decade.
Needless to say, the weakness in housing stocks is weighing on the overall performance of small-cap stocks.
Until recently, I've been hopeful that the housing market recovery would accelerate along with the job market and economic growth. But the recent data has changed my opinion.
The decision to delay the purchase of a home is a fundamental change in consumer behavior that can't be ignored. And will likely lead to weakness in housing related stocks over the next few years at a minimum, and likely even longer.
As a result, ETFs that focus on housing related stocks like SPDR S&P Homebuilders ETF (XHB), iShares US Home Construction ETF (ITB), and PowerShares Dynamic Building & Construction ETF (PKB) are likely to underperform during that time.
Here's the thing…
ETFs that focus on the housing market should be avoided at this time. And the weakness will likely continue to weigh on small-cap ETFs as well.
Nevertheless, small-cap stocks that aren't dependent on housing could surprise investors by outperforming large cap-stocks. That makes selecting the right small-cap ETF very important.
The small-cap ETFs, like IWM, that holds every stock in the Russell 2000 aren't the best way to invest in small cap stocks right now.
Smart-Beta or actively managed ETFs that select stocks for inclusion based on a set of rules stand to be the best performing small-cap ETFs in the future.
Good Investing,
Corey Williams
Category: ETFs, Sector ETFs, What's Going On?