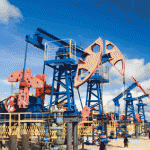 Right now, the US is in the midst of an energy revolution.
Horizontal drilling or fracking has allowed oil & gas exploration and production companies to unlock massive amounts of oil and gas that was previously inaccessible.
It has allowed the US to slash their crude oil imports. In June, total US imports fell 5.7% from the same time a year ago. The 9.23 million barrels a day was the smallest amount of oil imported in June since 1993.
According to the US Department of Energy, oil imports in 2015 will fall to their lowest level since 1970!
In other words, the US is on a path to energy independence. I think we can all agree that's a good thing.
None of this would be possible without advancements in drilling technology. And the rapid transformation from traditional drilling to horizontal drilling is still ongoing.
The best high tech horizontal drilling rigs are in such high demand that there simply aren't enough to keep up with the demand.
The lack of spare capacity gives these drilling stocks like Nabors Industries (NBR) room to run. NBR is the largest land-drilling contractor in the world.
Let's take a look at two ETFs that have good exposure to Nabors Industries….
SPDR S&P OIL & Gas Equipment & Services (XES)
XES is the ETF with the largest weighting of NBR. It currently makes up 2.36% of the holdings in XES.
At a recent price of $44.58, XES is up 10.5% over the last year. But the ETF has recently fallen 10% after it reached a 52-week high of $49.63.
This ETF is focused on the oil & gas equipment & services in the S&P Total Markets Index. It currently holds 51 stocks and has an expense ratio of 0.35%. It has a dividend payout of 0.77%.
This is a great ETF to get exposure to NBR and other drilling companies that are helping the US down the road toward energy independence.
Guggenheim S&P 500 Pure Value ETF (RPV)
RPV is another ETF with exposure the NBR. Right now NBR has a weighting of 2.05% in this ETF.
At a recent price of $52.43, RPV is up 20.0% over the last year. It is currently 4.2% off of its 52-week high of $54.70. This ETF gets a 5-star rating from Morning Star based on its risk-adjusted returns.
It currently holds 119 stocks and has an expense ratio of 0.35%. It has a dividend yield of 1.28%.
This ETF is designed to give the largest weighting to S&P 500 stocks based on fundamentals like Price/Book ratio, Sales/Price ratio, and Earnings/Price ratio.
RPV is a good choice if you're looking for a way to get exposure to NBR and other value oriented stocks.
Here's the bottom line…
NBR is a unique blend of growth and value. If you're looking to add exposure to NBR and other drilling stocks, or NBR and other value stocks, this is an ETF that suits your needs.
Good Investing,
Corey Williams
Category: ETFs, Investment Style ETFs, Sector ETFs