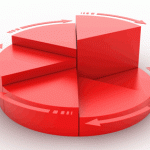 Over the last week, the S&P 500 has shaken off geopolitical concerns and moved 3% higher.
Amazingly, the S&P 500 survived another pullback without breaching the 200-day moving average. In fact, the large cap index has been above this key support level for a record 435 trading days.
That's the longest stretch for the S&P 500 by a wide margin. The next longest period the S&P 500 was above the 200-day moving average was from January of 1995 to July of 1996… a period of 385 consecutive days.
The advance has been led by a strong performance from the industrial and health care sectors.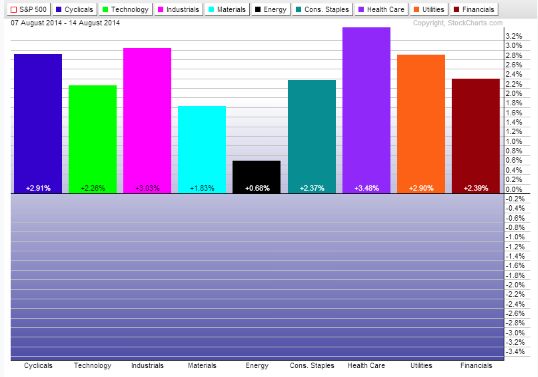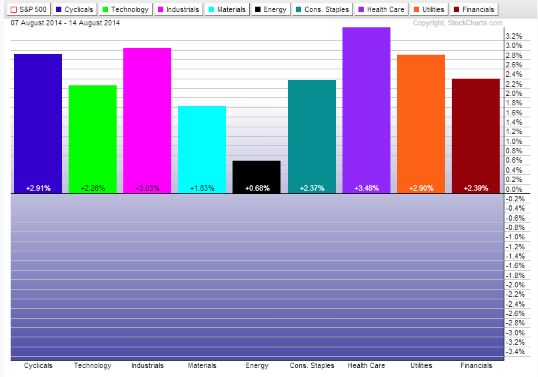 The Health Care Select Sector SPDR (XLV) is the top performing sector ETF with a 3.48% gain and the Industrial Select Sector SPDR (XLI) is right behind with a 3.03% gain over the last week.
What's more, all nine of the S&P sectors are showing a gain for the first time over a week since the period of July 17th to July 24th. That's a bullish sign for the overall strength of US stocks.
At this stage of the economic and market cycle, sector leadership becomes very important. If the current cycle has room to run, then cyclical sectors like technology, industrials, and basic materials should be the top performers.
One thing that's not so bullish is market breadth. The NYSE Advance/Decline peaked back in early July.
In other words, fewer stocks are contributing to the current market upswing than during the last upswing.
Simply put, the market is sending mixed signals right now.
Here's the thing…
The uptrend in US stocks is going strong. But there are signs that the trend is beginning to weaken.
Going forward you need to keep a close eye on the sector leadership. If cyclical sectors continue to lead, the S&P 500 should continue in the current bullish uptrend.
Good Investing,
Corey Williams
Category: ETFs, Sector ETFs, What's Going On?