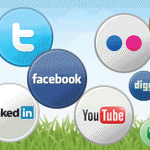 Facebook $FB, Instagram, Twitter $TWTR, YouTube, LinkedIn $LNKD…
It's hard to imagine a world without social media. People have become accustomed to sharing their lives and exploring the world through these internet platforms.
And it's not just individuals but businesses as well.  Companies of all shapes and sizes use social media.  Facebook and Twitter are essential pieces of any marketing plan for companies these days.
Social networking sites are a great place most of the time, but they can change your entire life with a single post or tweet.  Needless to say, social media has a huge impact on society.
But there's a bigger question for investors…
Can you make money investing in Social Media Today?
Not all social media is alike.  Some are places to engage with friends and family, others are built for business networking, others are coupon sites, and the list goes on and on.
Needless to say, the level of engagement with their audience varies quite a bit from one company to the next.
What's more, key fundamentals such as profit margins, earnings, revenue, and growth are very different among social media companies.
Despite these important differences, there's no denying that social media has a growing footprint in today's society.  And that makes for a compelling investment.
Here are a few ETFs that allow you to invest in social media today…
Global X Social Media Index ETF $SOCL
SOCL is an ETF that includes companies from all over the world.  These companies provide social networking, file sharing, and other web-based media applications.
This ETF specializes in purchasing social media stocks shortly after their IPO. SOCL was one of the earliest buyers of Facebook.
The ETF is currently trading for $18.75.  It's up 5% just this month. SOCL has an expense ratio of 0.65% and a dividend yield of 0.05%. It has $72.58 million in assets under management (AUM).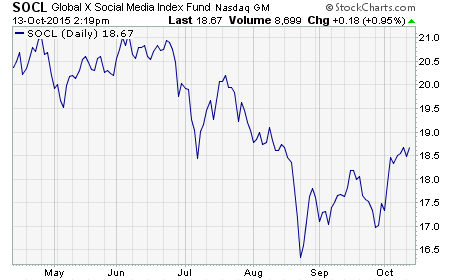 Some of the top holdings in SOCL are LinkedIn, Pandora $P, Facebook, Groupon $GRPN, and Google $GOOG.
iShares Global Tech $IXN
IXN is a true global technology ETF.  It covers approximately the top 70% of the world's market cap, eliminating most emerging markets exposure.  It tracks a market-cap-weighted index of S&P Global 1200 technology stocks.
The ETF is currently priced at $95.03 which is up 5% since last month.  IXN has a dividend yield of 1.16% and a price earnings ratio of 16.08.  Its expense ratio is .48% and has $846.48 million AUM.
Its major holdings include Apple $AAPL, Microsoft $MSFT, Google, Visa $V, and Facebook.
IXN will give you exposure to social media as well as other major tech stocks.
But I have to admit…
ETFs aren't the best way to invest in social media today.
It pains me to say that as an avid proponent of ETFs.
And if you buy into the investment thesis that most social media stocks will find a way to generate quality returns for investors over the long run, then an ETF like SOCL or IXN will work.
However, I think there will be as many winners as losers in social media.  The failures will more than likely offset the performance of the winners.
This is one industry that investors are better off investing in a few of the best social media stocks than buying the entire basket with an ETF.
Good Investing,
Corey Williams
Note: Corey Williams writes and edits ETFTradingResearch.com.  Sign up for our free ETF reports and free e-letter at http://www.etftradingresearch.com/free-sign-up.  We're devoted to helping you make more money from ETFs.
Category: ETFs