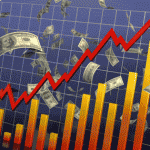 SanDisk $SNDK stock is up 25% during the last month.  That impressive performance makes it the top performing stock in the S&P 500.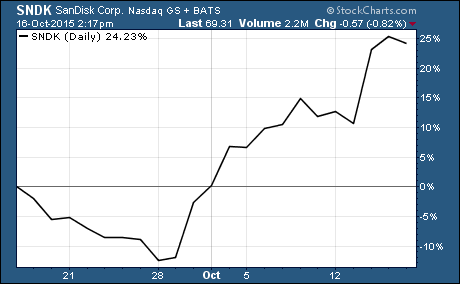 SanDisk is a semiconductor company that designs, develops, manufactures, and markets data storage solutions.  I'm sure you've come across one of their products inside a digital camera, camcorder, smartphone, tablet, or eReader.
In fact, SNDK's biggest customer had been none other than Apple $AAPL.  They accounted for 20% of SNDK's sales.  But Apple changed suppliers… and SNDK's stock has taken a beating since the news broke they were losing their biggest customer.
At a recent price of $69.42, it has a market cap of $14.3 billion.  Over the last year, the company has generated $2.51 per share in earnings per share (EPS) on over $6 billion in sales.
That's a price to earnings (P/E) ratio of 27.84.  Unfortunately, EPS are down 2.5% this year from last year.
The good news is analysts see earnings growth on the horizon.  Current estimates are for EPS to grow nearly 37% next year.  We'll get more clarity on these estimates when the company reports 3rd quarter earnings next week.
But earnings and growth aren't the reason SNDK has soared 25% in the last month.
Right now, SNDK stock is up because of buyout speculation.  The company is discussing buyout terms with Micron Technology $MU and Western Digital $WDC.
In fact, a wave of M&A activity is sweeping through the semiconductor industry.  There have been at least 15 big M&A deals among semiconductor companies announced this year.  These deals are valued at a whopping $80 billion.
The major driver of this consolidation is the rising cost of production.  It typically costs $100 million or more to develop and produce one of today's semiconductors.
This wave of consolidation is a good thing for the semiconductor industry.  It will result in less competition and more pricing power.
And it will help lift the value of all semiconductor stocks and the ETFs that hold them.
Here are 2 ETFs with Exposure to SanDisk Stock
iShares PHLX SOX Semiconductor Sector Index Fund $SOXX and Market Vectors Semiconductor ETF $SMH are two ETFs with a large weighting of SNDK.
SNDK accounts for 4.73% of SOXX.  It's the 9th biggest holding in this ETF.  SOXX has an expense ratio of 0.47%.
SMH has a 2.38% weighting of SNDK.  It's the 16th largest holding in SMH right now.  This ETF has an expense ratio of 0.35%.
Other Holdings of ETFs with SanDisk Stock
SOXX and SMH both track an index of semiconductor stocks.  But the holdings are put together differently.
SOXX is intended to replicate the PHLX Semiconductor Sector Index. The index is composed of semiconductor stocks listed on US stock exchanges. There are 31 stocks in this ETF.
SMH tracks an index of semiconductor stocks created by the ETF provider called Market Vectors US Listed Semiconductor 25 Index. This index tracks the performance of 25 of the largest US semiconductor companies.
Either one of these ETFs focused on semiconductor stocks should benefit from the wave of M&A activity sweeping through the industry.
Other ETFs With SanDisk Stock
You can find even more ETFs with exposure to SanDisk stock using an ETF screener.  There are more than 60 ETFs to choose from.
Good Investing,
Corey Williams
Note: Corey Williams writes and edits ETFTradingResearch.com.  Sign up for our free ETF reports and free e-letter at http://www.etftradingresearch.com/free-sign-up.  We're devoted to helping you make more money from ETFs.
Category: What's Going On?