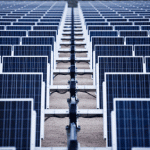 Solar energy is one of the leading growth industries in the world.
The pace of solar panel installations is accelerating around the globe.  And the industry has one of the fastest job creation rates… it accounted for 1.3% of all jobs created in the US in 2014.
A solar ETF is a great way to invest in the companies on the cutting edge of solar power development and growth.
What's a solar ETF?
A solar ETF is an exchange traded fund that tracks the price and performance of a basket of companies in the solar energy industry.
These can be companies that make solar power equipment and products, ones that make equipment used in the production of solar cells and modules, or ones that provide the raw materials to make them.
Basically any company that has a significant portion of their business dedicated to solar power can be found in a solar ETF.
Who should buy a solar ETF?
If you're looking for a simple way to invest in the solar industry, you'll be interested in solar ETFs.
A solar ETF tracks an index of solar companies.  By purchasing a single solar ETF, you are able to buy an entire basket of solar stocks.
For example, if you buy the Guggenheim Solar ETF $TAN, then you're buying all 27 stocks in the MAC Global Solar Energy Index.  And you're doing it in a single trade.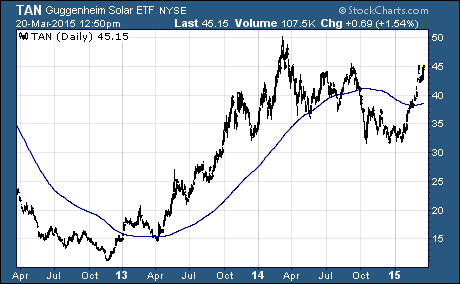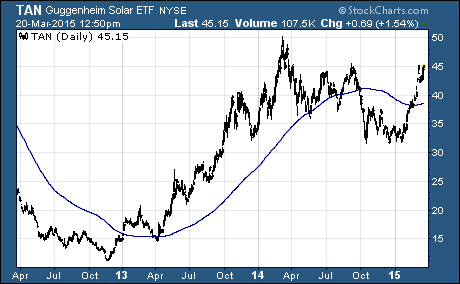 Buying an ETF like TAN can be done right in your IRA or brokerage account.  And you typically don't need any special permission to trade these ETFs. 
Can speculators trade a solar ETF?
Now, if you're looking to speculate on short term moves in solar stocks, you can use solar ETFs.  There aren't any providers that offer a leveraged solar ETF.
But you can trade options on TAN.
You can buy call or put options on TAN if you want to speculate on short term movements on the price of solar stocks.
How do I invest in a solar ETF?
There are few options for investors to invest in solar ETFs.  Some focus solely on solar stocks but you'll also find solar stock in clean tech and alternative energy ETFs.
Here's how you can find even more solar ETFs.
A good first step in to create a list.
Before you know it, you'll be ready to invest in your first Solar ETF.
Good Investing,
Corey Williams
Note: Corey Williams writes and edits ETFTradingResearch.com.   Sign up for our free ETF reports and free e-letter at http://etftradingresearch.com/free-sign-up. We're devoted to helping you make more money from ETFs.
Category: Sector ETFs