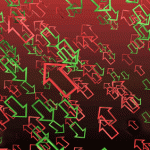 Today we're taking a look at ETF fund flows in SPDR S&P 500 (SPY) and SPDR Gold (GLD).
ETF fund flows are a valuable indicator of what traders are thinking.  It takes a lot of buying or selling to drive millions or even billions of dollars into or out of individual ETFs.
Fund flows are something traders use to find trends and gauge investor sentiment.  And it can help you pinpoint which ETFs could be next to make a big move higher or lower.
Let's take a look at the ETFs that experienced large inflows or outflows last week…            
The SPDR S&P 500 (SPY) had the most net inflows last week.  The world's largest ETF with $163 billion in assets under management picked up an additional $4.7 billion during the week.
And for good reason…
As Adam Parker, the lead stock strategist at Morgan Stanley, recently pointed out, "The only thing people are worried about is that no one is worried about anything."
In other words, there isn't anything on the horizon that could drastically lower earnings estimates.  In fact, estimates could prove to be too conservative.
Right now the average forecast for the S&P 500 in 2014 among Wall Street analysts is for a gain of about 5%.  But if the global economy continues to accelerate, we could easily blow those conservative estimates out of the water.
In short, the large inflow of new money into SPY is a clear indication investors are still in 'risk on' mode.  And expecting the strong gains among US large cap stocks to continue.
The downside to the 'risk on' trade is that gold continues to lose ground.  Investors pulled $684 million out of SPDR Gold (GLD) last week.  That brings the total redemptions of GLD to $23.3 billion year-to-date.
The outflow isn't surprising considering gold's 5.5% drop in price during the month of November.  According to CNBC, it was the worst percentage loss in November since 1978.
And the outlook for the price of gold isn't any better.  Many analysts are predicting another leg down for the shiny yellow metal in 2014.  For instance, Goldman Sachs (GS) is predicting a decline of at least 15% next year.
The November outflows are an indication that all but the most hardened gold bugs are pulling out of gold and GLD.  And I can't blame them one bit.
That wraps up this week's ETF fund flows…
Keep in mind, there's a lot of information about ETF fund flows.  And it can be a very useful tool as long as you know what you're looking for.
Good Investing,
Corey Williams
Category: Commodity ETFs, ETFs