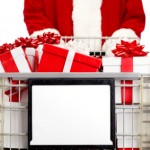 In today's ETF showdown, we're taking a look at retail ETFs.
The holiday shopping season kicks into high gear on Black Friday. 
One thing's for sure, you won't find me standing in any lines the day after Thanksgiving.  But more than 140 million shoppers are expected to brave the elements and crowds in search of the holiday season's best bargains.
Needless to say, the holiday shopping season is the most important time of year for retailers.  Investors looking to profit from the holiday shopping season can use an ETF that focuses on retailers.
As you know, ETF providers like iShares, State Street, ProShares, and many others offer ETFs that sound similar.  But just because they have a similar name, doesn't mean they'll have the same performance.
When your hard-earned money is on the line, selecting the right ETF is crucial to maximizing your profits and minimizing your losses. 
Let's take a look at three retail ETFs… 
SPDR S&P Retail ETF (XRT) is the largest of all retail ETFs.  It currently has $1.4 billion in assets under management.
At a recent price of $88.46, XRT is up a whopping 42% year-to-date.  It has a dividend yield of 1.09%.  And, the expense ratio is 0.35%.
XRT is made up of 99 stocks from the retail sub-industry of the S&P TMI index.  The stocks are equally weighted.
The equal weighting methodology skews this ETF toward smaller retailers.  As a result, apparel retailers and specialty stores that are typically smaller make up 44% of XRT.
This ETF is an ideal play on Black Friday and the holiday shopping season.
Market Vectors Retail ETF (RTH) is much less popular than XRT.  It has managed to collect a mere $41 million in assets.
At a recent price of $61.06, RTH is up 39% this year.  It has a dividend yield of 0.87% and an expense ratio of 0.35%. 
RTH focuses on the largest retail companies.  It holds only 25 stocks that are weighted according to their market cap. 
The largest holdings are Amazon.com (AMZN) 9.33%, Wal-Mart (WMT) 8.51%, Home Depot (HD) 7.61%, and CVS Caremark (CVS) 5.37%. The large holdings of AMZN and WMT make RTH a good play on online holiday shopping. 
PowerShares Dynamic Retail Portfolio (PMR) is another smaller put interesting retail ETF.  PMR currently has $40 million in assets under management. 
So far this year, PMR is up 40%.  It has a dividend yield of 1.94% and the largest expense ratio of all retail ETFs at 0.63%.
PMR is made of 30 stocks at all times.  The stocks are selected based on price momentum, earnings momentum, quality, management action, and value. 
Consumer staples make up 48% of PMR holdings.  It lacks exposure to the hottest retail names and consumer discretionary stocks to make a good play on holiday shopping. 
Here's the bottom line…
XRT, RTH, and PMR are all retail focused ETFs but each one holds a different combination of stocks.  XRT looks like the best pure play on holiday shopping, RTH is the way to go for those who want exposure to internet shoppers, and PMR really isn't a good play on holiday shopping and should be avoided.
Good Investing,
Corey Williams
Category: ETFs, Sector ETFs