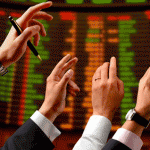 If you were expecting a quiet summer for stocks… you've been disappointed by the market's recent performance. The 'Sell in May and go away' crowd is missing out on a whopper of a rally over the last month.
Over the last month, the S&P 500 is up 4.3% and recently made a new all-time high of 1,955. At this rate, the S&P could reach 2,000 before the summer is out!
What's behind the recent surge?
First off, the three biggest threats to stocks have dissipated over the last few weeks. The situation in Ukraine/Russia has calmed down, small-cap stocks have rebounded, and financials have found solid footing.
This is reassuring to investors. Right now there's no major threat that could send stocks spiraling downward. In other words, investors feel that it's safe to be in stocks.
What's more, we have a Goldilocks scenario for economic growth in the US. It's not too hot and it's not too cold.
We continue to see solid economic data from things like factory orders, motor vehicle sales, and growth in consumer credit. These are signs of a cyclical upturn and a strong consumer.
But at the same time, the employment and inflation data show that the economy isn't running too hot. That means the Fed will be able to keep their very accommodative monetary policy in place to support the economic recovery.
As a result, we've seen a broad based advance among all US sectors except utilities over the last month. Just look at this chart…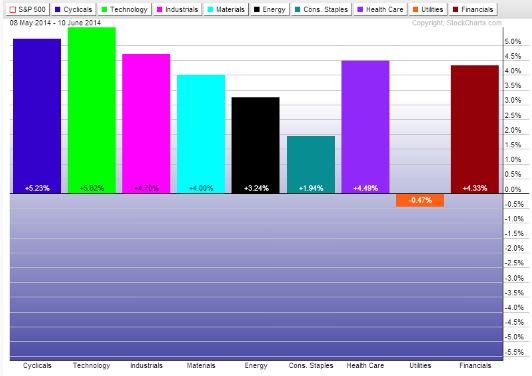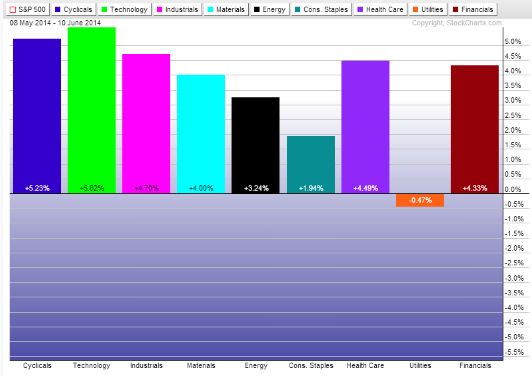 In short, all signs point to more upside for stocks and our ETFs.
Needless to say, that's impressive. Technology and consumer discretionary stocks have led the advance with gains of 5.8% and 5.2% respectively. But we're also seeing impressive gains from cyclical sectors like industrials, materials, energy, and financials.
Here's the thing…
This type of advance with cyclical and growth stocks advancing together is extremely bullish. It's a sign that investors that were scared out of stocks or into defensive sectors for one reason or another are back.
In short, the market is in 'risk on' mode.
Now's the time to use any pullback to add to your existing positions or initiate new ones. The bull market is going strong. This is no time to be caught on the sidelines.
Good Investing,
Corey Williams
Category: ETFs, Sector ETFs
Corey Williams is the editor of Sector ETF Trader, an investment advisory service focused on profiting from ETFs and the economic cycle. Under Corey's leadership, the Sector ETF Trader has become one of the most popular and successful ETF advisories around. In addition to his groundbreaking service, Corey is the lead contributor to ETF Trading Research, where he shares his insights about ETFs and financial markets three times a week. He's also a regular contributor to the Dynamic Wealth Report and the editor of one the hottest option trading services around – Elite Option Trader.