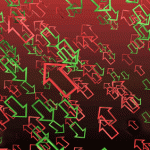 The old Wall Street adage 'Sell in May and go away' hasn't worked out too well for investors this year. The S&P 500 finished the week at a new all time high of 1,949… that's up 3.5% since the beginning of May!
The rise in stocks has been accompanied by an influx of money into ETFs. There's now $1.8 trillion invested in the various US listed ETFs after $3 billion in fresh inflows last week.
These fund flows are a valuable indicator of what traders are thinking. It takes a lot of buying or selling to drive millions or even billions of dollars into or out of individual ETFs.
Fund flows are something traders use to find trends and gauge investor sentiment. And it can help you pinpoint which ETFs could be next to make a big move higher or lower.
The iShares Russell 2000 (IWM) led all ETFs with net inflows of $1.3 billion last week. This small cap ETF had taken a big hit earlier this year. IWM dropped 10.8% from the March 7th peak to the May 15th trough.
Since bottoming out in mid-May, IWM has shot up 7.9% to finish the week at $115.88 per share. The selloff in small cap stocks is clearly turning out to be one of the best buying opportunities we've had in the last few years of low volatility.
And it's not just IWM that experienced strong inflows last week.
SPDR S&P 500 (SPY) had more than $1.2 billion in inflows and ETFs that hold foreign stocks had $1.2 billion in inflows as well.
In short, ETF investors are pouring money into stocks.
The ETF with the most redemptions was the iShares 1-3 Year Credit Bond ETF (CSJ). This ETF holds short-term US investment grade bonds.
CSJ and other funds that hold short term bonds are suffering due to lower yields and interest rates. It seems that money coming out of these short term bond funds is finding a home in longer duration bonds and even dividend paying stocks.
Over the past few months, stocks and bonds had been moving higher at the same time. This unusual development was a bit perplexing… typically we see one or the other moving higher at the expense of the other.
And for good reason…
A rising stock market typically happens ahead of improving economic data, while bonds rise ahead of worsening economic data. Something had to give…
Right now stocks are advancing as bonds head lower. This dynamic is a clear indication the bulls have once again won out over the bears. And it points to even more gains for stocks in the weeks ahead.
That wraps up this week's ETF fund flows…
Keep in mind, there's a lot of information about ETF fund flows. And it can be a very useful tool as long as you know what you're looking for.
Good Investing,
Corey Williams
Category: ETFs, Market Analysis