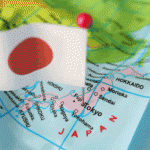 The Japanese stock market is struggling along with everything else in 2016.
The popular iShares MSCI Japan Index Fund $EWJ is down 11% this year.  But that's after a 7% bounce over the last few days.
And don't forget that Japanese stocks have been moving lower since mid-2015.  EWJ is down 18% from the 52-week high.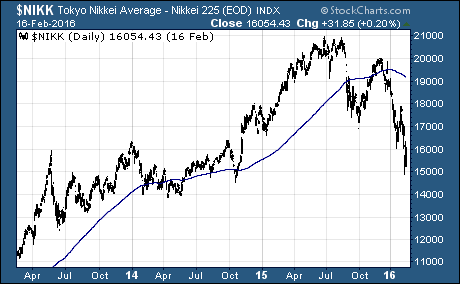 The drastic reforms that were undertaken back in 2012 gave the Nikkei a big boost over the first few years.  But the recent selloff is a clear indication optimism is waning.
The recent struggles in China's economy have sent money flooding back into the old safe haven Yen.  The sluggish global economy and a strong currency are especially hard on Japanese exports.
As a result, Japanese stocks have sold off.
Here's the thing…
Japanese stocks are really cheap based on current earnings estimates.  I'm talking forward PE ratios that are lower than they were back in the financial crisis.
This could mean two things for Japan ETFs.
The first being, Japan is about to go into recession.
Japanese GDP contracted at an annualized rate of 1.4% in the 4th quarter.  If the economy continues to slow at this pace, earnings estimates will be slashed in short order.
Lower earnings estimates will drive the forward PE ratio higher and could bring back in line with 14x future earnings we often see among Japanese stocks.
But I don't think the global economy is heading for a recession.  The market weakness is tied to fear and uncertainty.
The other option is Japanese stocks are trading at a huge discount… it's time to buy EWJ or some other ETF focused on Japanese stocks.
What needs to happen for this second, more optimistic vision, were to come true?
In short, the Yen needs to fall.
A strong Yen not only has a negative impact on the important earnings from exporters, it also hurts the return foreign investors make on their Japanese stock holdings.
Japan's Prime Minister Shinzo Abe has proven he will aggressively attack currency headwinds with monetary and fiscal policy.  And he's not going to change course now.
Look for the Yen to weaken and Japanese stocks to move higher in the months ahead.
Japan ETF With Currency Hedge 
This is a great environment for an ETF like the WisdomTree Japan Hedged Equity Fund $DXJ.  The key difference between DXJ and EWJ is the currency hedge.
DXJ is designed to provide exposure to equity securities in Japan, while at the same time hedging exposure to fluctuations between the value of the U.S. Dollar and the Japanese Yen.
The ETF offers investors a way to access the full potential of Japanese stocks when the Yen is weakening versus the US Dollar.
Good Investing,
Corey Williams
Note: Corey Williams writes and edits ETFTradingResearch.com.  Sign up for our free ETF reports and free e-letter at http://www.etftradingresearch.com/free-sign-up.  We're devoted to helping you make more money from ETFs.
Category: Foreign Market ETFs