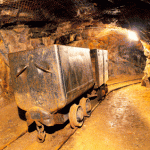 Freeport-McMoRan $FCX is the top performing stock in the S&P 500 over the last month.  The resource miner is up a whopping 70% in the last month.  At a current price of $7.75, it's up 120% from the 52-week low of $3.52.  But it's still down 67% from the 52-week high of $23.65.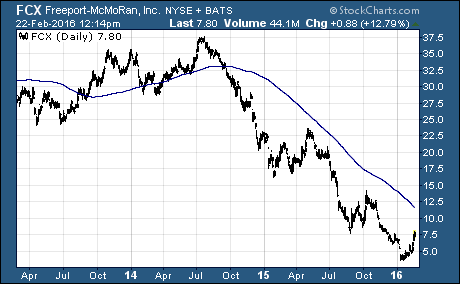 FCX is up after activist investor Carl Icahn bought more of the company's outstanding stock.  He now owns 104 million shares of FCX.
The company also announced a deal to sell part of their ownership of a mine in Arizona.  The proceeds from the sale will help them pay down debt.
You may be wondering if it's a good time to invest in FCX or an ETF that owns FCX and other resource stocks?
In order to answer that question, first we need to look at what caused the selloff.
In short, the problems from miners were caused by rapid expansion.  There was a massive ramp up of production after the financial crisis.  But global economic growth slowed and so did the growth of demand for these raw materials.
The last few years have been a period of adjustment.  The resource companies have cut capex, sold assets, and lowered costs.
There's no doubt this has been a painful adjustment.  Now it appears that resource stocks are nearing a turning point.  And we could see profits and growth return to the industry in short order.
The Best ETF With Freeport-McMoRan Holdings…
SPDR S&P Metals and Mining ETF $XME is an equal-weighted index of U.S. metals and mining companies.  It holds an equal amount of the 25 mining stocks in the S&P 500 index.  It also has a low expense ratio of 0.35%.
XME is a good way to get low cost position in US resource stocks.  This ETF could rocket higher if this is a turning point for resource stocks.
Good Investing,
Corey Williams
Note: Corey Williams writes and edits ETFTradingResearch.com.  Sign up for our free ETF reports and free e-letter at http://www.etftradingresearch.com/free-sign-up.  We're devoted to helping you make more money from ETFs.
Category: What's Going On?