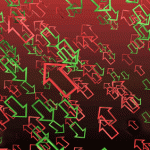 Today we're taking a look at ETF fund flows in – WisdomTree Japan Hedged Equity (DXJ), iShares MSCI Japan (EWJ), and SPDR Gold (GLD).
ETF fund flows are a valuable indicator of what traders are thinking.  It takes a lot of buying or selling to drive millions of dollars into or out of individual ETFs.
They're something traders use to find trends and gauge investor sentiment.  And it can help you pinpoint which ETFs could be next to make a big move higher or lower.
Let's take a look at three ETFs that near the top of the net inflows and net outflows from May 13th to May 17th.
WisdomTree Japan Hedged Equity (DXJ) and iShares MSCI Japan (EWJ) are two of the most popular ETFs focused on Japanese stocks.  They had total inflows of nearly $2 billion last week.
And for good reason… Japanese stocks are on fire!
EWJ is up an incredible 24% so far this year.  And DXJ, that hedges out the impact of fluctuations between the Yen and US Dollar, is up a staggering 41% so far this year.
Keep in mind, we aren't talking about ETFs that are focused on a volatile sector like biotech or a leveraged ETF…  Nope.  DXJ and EWJ are tracking the entire Japanese stock market. 
To say the gains we've seen in these two ETFs are impressive is a huge understatement!    And judging by the amount of new money flooding into them, there are plenty of investors who believe they still have a lot more upside from here.
Unfortunately, investors don't have the same optimism when it comes to gold.
Last week the SPDR Gold (GLD) ETF shed another $590 million.  It brings the year-to-date total outflows in GLD to $15.2 billion! 
Gold prices are now down 24% from the 52-week high.  And clearly in bear market territory.  And the bears were out in full force last week. 
The most important thing about gold is that good news is no longer driving the price of gold higher.  And when good news doesn't spark buying in any stock or commodity, it's time to start worrying.
If good news isn't driving gold prices higher, what will?
The massive outflows from GLD are a tell tale sign that gold is in a bear market.  And it's one commodity I would steer clear of for now.
That wraps up this week's ETF fund flows…
Keep in mind, there's a lot of information about ETF fund flows.  And it can be a very useful tool as long as you know what you're looking for.
Good Investing,
Corey Williams
Category: ETFs, Market Analysis, What's Going On?