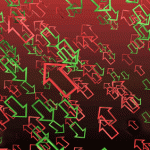 Investors pumped money into ETFs in July despite an increase in market volatility and uncertainty. A whopping $15.8 billion in fresh capital went into various ETFs that hold US and International stocks.
As you know, fund flows are a valuable indicator of what traders are thinking. It takes a lot of buying or selling to drive millions or even billions of dollars into or out of individual ETFs.
Fund flows are something traders use to find trends and gauge investor sentiment. And it can help you pinpoint which ETFs could be next to make a big move higher or lower.
The world's largest and most often traded ETF, SPDR S&P 500 (SPY), had the most inflows among all US listed ETFs. SPY had $5.7 billion in net inflows during the month.
Two other ETFs that track the S&P 500 were also near the top of the list.
iShares Core S&P 500 (IVV) had $1.8 billion and Vanguard S&P 500 (VOO) had $772 million in net inflows last month. In total, more than $8.2 billion was invested in the S&P 500 through ETFs last month.
The inflow of money into international stock ETFs was led by ETFs that track emerging markets. iShares MSCI Emerging Markets (EEM) and Vanguard FTSE Emerging Markets (VWO) combined to bring in $3.13 billion in new capital.
The July ETF fund flows clearly show investors are turning to ETFs as an easy and cost effective way to gain exposure to specific areas of the financial market – in this case, US large cap and emerging market stocks.
The ETFs that saw the highest rate of redemptions last month were corporate bond funds.
The iShares iBoxx $ High Yield Corporate Bond (HYG) led all ETFs with net outflows of $1.8 billion last month. In addition, the PIMCO 0-5 Year High Yield Corporate Bond (HYS) had $881 million in net outflows.
In total, that's $2.7 billion in outflows from ETFs that focus on corporate bonds. There's clearly something amiss in the world of corporate bonds.
This divergence between fund flows into US stock ETFs and corporate bond ETFs is unusual. We typically see the performance and the funds flows of high yield corporate bonds and stocks move together.
Not only have the fund flows between stocks and corporate bond ETFs diverged, but so has the performance. High yield bonds have fallen off while stocks have continued to rally.
Here's the thing…
Divergences between US stocks and high yield corporate debt don't last long. We will likely see corporate bonds rally or US stocks correct in short order.
That wraps up this week's ETF fund flows…
Keep in mind, there's a lot of information about ETF fund flows. And it can be a very useful tool as long as you know what you're looking for.
Good Investing,
Corey Williams
Category: ETFs, Market Analysis