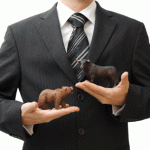 Over the last few months, the battle between the bears and bulls over cyber security stocks has been heating up.  Now aggressive traders can use a leveraged cyber security ETF to pick a side and profit.
Today's world is more connected and convenient than ever before.  Everything from mobile devices, cars, homes, businesses, and governments are connected online and that data is stored or backed up in the cloud.
These technological advancements have made life and doing business easier or better for those that use them.  But they also come with the added risk and vulnerability to cyber attacks.
Now more than ever, cyber security is the top priority of individuals, businesses, and governments alike.
Not surprisingly, the ETF industry has jumped on the cybersecurity bandwagon.  The PureFunds ISE Cyber Security ETF $HACK launched 11 months ago.  As you can see, HACK surged more than 30% higher in the first seven months after it launched… then it gave back the majority of those gains over the last three months.
Needless to say, those are some wild price swings in its short existence!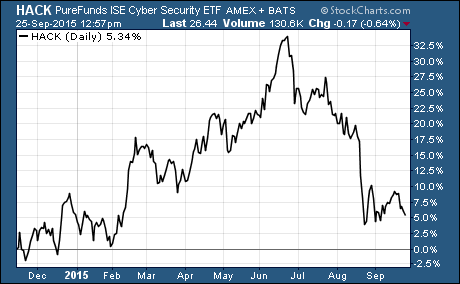 Now the bulls and bears are making their case for what the future will bring to cyber security stocks and the new leveraged ETFs that track these stocks. 
What The Bulls Are Saying About Leveraged Cyber Security ETFs…
Cyber threats come is all shapes and sizes.  They range from simplistic password fraud to ransomware and complex Distributed Denial of Service (DDoS) attacks.
In a recent 'State Of The Internet' report, Akamai $AKAM found that DDoS attacks hit a record high in the second quarter of 2015.  The volume of attacks grew by 132% year-over-year and 7% since the first quarter.
You can check out the DDoS attacks happening right now at www.digitalattackmap.com.
Another study finds that it takes an average of ten hours before a company can even begin to resolve a DDoS attack.  And those outages cost a company an average of $100,000 per hour.
In short, a DDoS attack can easily cost an internet-reliant company $1 million before the company even starts to mitigate the attack!
But the monetary value is secondary according to www.cybersecurityindex.org.  The biggest threat to businesses and governments is media & public perception.
In other words, businesses don't really care about keeping your personal information safe.  They care about the bad publicity that comes along with a cyber attack.  They don't want to lose future customers because they get blasted in the media for their lack of effort to protect their information.
There's no doubt about it, governments and businesses are spending more and more money to prevent cyber attacks.  And that's a boon for cybersecurity companies… regardless of the motivation behind the spending.
What The Bears Are Saying About Leveraged Cyber Security ETFs…
Cyber security may be the most pressing issue facing businesses, governments, and individuals in the digital age… but there are a few problems with investing in cyber security companies.
The cyber security industry is highly competitive.  Many companies are fighting over the same business.  This competition is driving down margins and making it harder for cyber security companies to make money.
Lots of investors jumped on the cyber security bandwagon and pushed the valuations of these stocks sky high. In short, cyber security stocks are momentum stocks.
Investors piled into these stocks based on the hope that increased spending on cyber security would translate into bigger profits for cyber security companies.  But so far that's not happening.
If their revenue and earnings don't match these lofty expectations, they're going to come crashing back down.
Leveraged Cyber Security ETFs To Pick A Side And Profit…
If you think the bulls are right, take a look at buying the Direxion Daily Cyber Security Bull 2X Shares $HAKK.  This ETF seeks daily investment results that are two times (200%) the daily performance of the ISE Cyber Security Index.
If you think the bears are right, take a look at buying the Direxion Daily Cyber Security Bear 2X Shares $HAKD.   This ETF seeks daily investment results that are two times (200%) the inverse (opposite) of the daily performance of ISE Cyber Security Index.
Good Investing,
Corey Williams
Note: Corey Williams writes and edits ETFTradingResearch.com.  Sign up for our free ETF reports and free e-letter at http://www.etftradingresearch.com/free-sign-up.  We're devoted to helping you make more money from ETFs.
Category: Leveraged ETFs