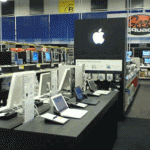 Best Buy $BBY is one of the top performing stocks in the S&P 500.  The electronics retailer is up 20% over the last month.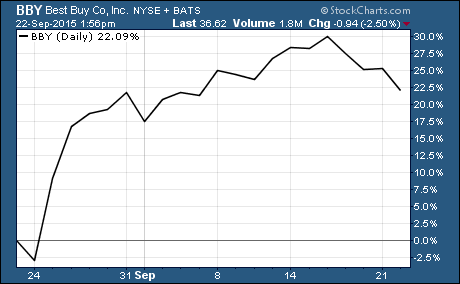 That's amazing considering the amount of pain the company has endured over the last decade.  The big box store essentially became a showroom for online retailers like Amazon $AMZN.
I'm sure you've done this before…
You're in the market for a new television or some sort of electronic device.  So, you go to Best Buy so you see, touch, and, hear it in person.  Then you go to the internet to find the best price after you've decided which one you want to buy.
I know I've done it before!
BBY has combated the phenomenon called 'showrooming' by seamlessly blending their brick and mortar stores with their online shopping experience.
Today you can order online from BBY and pick in store the same day.  They price match online offers.  And they've also been helped by the introduction of state sales taxes to online purchases.
These changes, along with strict cost controls, have helped BBY compete with online retailers.  Now sales are growing and they've returned to profitability.
In fact, Best Buy reported 49 cents per share of earnings on $8.5 billion of revenue last quarter.  That's 17% year-over-year earnings growth and 1% sales growth.
As a result, BBY is enjoying a nice uptick even while the S&P 500 has fallen more than 3% over the last month.
Needless to say, Best Buy is on the right track.  And you can use an ETF to own Best Buy and other stocks that share important characteristics with it.
Here Are 2 ETFs With Exposure To Best Buy…
PowerShares Dynamic Retail Portfolio $PMR and All Cap Insider Sentiment Shares $KNOW are two ETFs with a large weighting of BBY.
BBY accounts for 2.84% of PMR.  This ETF has an expense ratio of 0.65%.
KNOW has a 2.35% weighting of BBY.  It's the 6th largest holding in KNOW right now.  This ETF has an expense ratio of 0.65%.
Other Holdings In ETFs With Best Buy…
As their names suggest, PMR and KNOW are very different ETFs.
PMR tracks an index of retail stocks.  Stocks are selected for inclusion in this index based on a variety of investment merit criteria.  They look at things like fundamental growth, stock valuation, investment timeliness and risk factors.
KNOW tracks the Sabrient Multi-Cap Insider/Analyst Quant-Weighted Index.  This index has 100 stocks that corporate insiders are accumulating.  The stocks are reviewed on a monthly basis and selects stocks with strong insider buying and analyst buy recommendations.
These two unique ETFs use a combination of fundamental and frequent rebalancing to keep the ETF holdings focused on the top stocks based on their guidelines.
The formula has translated into a strong performance for both ETFs over the last year.  PMR and KNOW are both performing better than the S&P 500 over the last year.  PMR is up 12% and KNOW is up 3.7% while the S&P 500 is down less than 1%.
If you're looking for a unique way to own BBY and other stocks that share important characteristics with it, then PMR and KNOW fit the bill.
Other ETFs With Best Buy Holdings…
There are plenty more ETFs with exposure to BBY.  In fact, I see 71ETFs that hold BBY when I use an ETF screener for ETFs with exposure to BBY.
Good Investing,
Corey Williams
Note: Corey Williams writes and edits ETFTradingResearch.com.  Sign up for our free ETF reports and free e-letter at http://www.etftradingresearch.com/free-sign-up.  We're devoted to helping you make more money from ETFs.
Category: What's Going On?