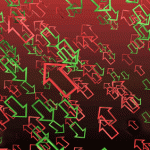 Today we're taking a look at ETF fund flows in iShares Core S&P Mid-Cap (IJH) and iShares 3-7 Year Treasury Bond (IEI).
ETF fund flows are a valuable indicator of what traders are thinking.  It takes a lot of buying or selling to drive millions of dollars into or out of individual ETFs.
Fund flows are something traders use to find trends and gauge investor sentiment.  And it can help you pinpoint which ETFs could be next to make a big move higher or lower.
Let's take a look the leading ETFs in net inflows and net outflows from July 29th to August 2nd.
iShares Core S&P Mid-Cap (IJH) raked in $2 billion in net inflows to claim the top spot for the week.  ProShares Ultra MidCap 400 ((MVV) also captured more than $1 billion in inflows as well.
There's clearly some big money gravitating toward mid-cap stocks.
And for good reason…
So far this year, mid-cap stocks are outperforming large cap stocks.  IJH owns stocks with a market capitalization between $1 billion and $4 billion and it's up a whopping 23.8% year to date.
In fact, mid-cap stocks have consistently outperformed large caps during the bull market off the March 2009 low.  And there's a good chance they will continue to deliver superior gains going forward.
The majority of the inflows showed up on the first day of August.  This smacks of institutional money being moved into mid-cap stocks.  Regular investors may want to follow suit and put more money to work in this often overlooked section of the market.
On the other hand, investors redeemed more than $2 billion worth of iShares 3-7 Year Treasury Bond (IEI) last week. In fact, IEI saw nearly half of its assets flow out the door last week!
The majority of the sales took place on the 1st of the month.  This looks like more institutional money coming out of the intermediate dated Treasury note market.
These investors are positioning themselves for the end of a 30 year cycle of declining Treasury yields.  But there's no guarantee we'll see interest rates begin to climb much higher.
If economic growth continues its slow and steady climb higher, I wouldn't be surprised to see Treasury yields hold steady for longer than expected.  If market expectations change, we could see money flow back into bond ETFs that have been sacked with huge redemptions lately.
That wraps up this week's ETF fund flows…
Keep in mind, there's a lot of information about ETF fund flows.  And it can be a very useful tool as long as you know what you're looking for.
Good Investing,
Corey Williams
Category: Bond ETFs, ETFs, Index ETFs