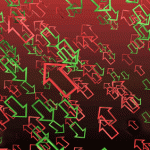 Today we're taking a look at ETF fund flows in SPDR S&P MidCap 400 (MDY) and SPDR Gold (GLD).
ETF fund flows are a valuable indicator of what traders are thinking.  It takes a lot of buying or selling to drive millions or even billions of dollars into or out of individual ETFs.
Fund flows are something traders use to find trends and gauge investor sentiment.  And it can help you pinpoint which ETFs could be next to make a big move higher or lower.
Let's take a look at two ETFs that experienced large inflows or outflows last week…
SPDR S&P MidCap 400 (MDY) led all ETFs with $788 million in net inflows last week.
The fund invests US companies with a market cap between $1 billion and $4.5 billion.  About 7% of all US stocks fall into this category.
MDY currently holds 401 stocks.  It has an expense ratio of 0.25% and has an annual dividend yield of 1.15%.
So far this year, MDY is up 28%.  It's outperforming the S&P 500, that's up 25% year-to-date, by 3%.  The inflow of money into MDY is a clear indication investors are expecting mid-caps to continue outperforming.
Mid-caps should get a boost from stronger revenue and earnings relative to large cap stocks.  Don't forget, US economic growth has been strong relative to the rest of the world.  And mid-cap stocks typically get more of their business domestically and less internationally than larger companies.
SPDR Gold (GLD) experienced an outflow of $435 million last week.  That brings the total redemptions in GLD to $22.1 billion year-to-date!   The outflow from the gold ETF comes despite a 7% rise in gold prices over the last two weeks.
And for good reason…
Gold has been locked in a strong downtrend that has knocked 20% off of gold's value over the last year.  What's more, the rally pushed GLD up against a strong technical resistance level at $130.
One of the central principles of technical analysis is once a support is broken, it becomes a new resistance.  $130 was a strong floor of support in April and May, before it broke below it in June.  So this price is now a roadblock to higher gold prices.
Traders are clearly taking profits now in anticipation of another downturn in gold prices.
That wraps up this week's ETF fund flows…
Keep in mind, there's a lot of information about ETF fund flows.  And it can be a very useful tool as long as you know what you're looking for.
Good Investing,
Corey Williams
Category: Commodity ETFs, ETFs