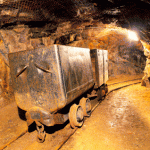 Anyone who owns gold or an ETF like SPDR Gold Shares (GLD) knows that gold is the forgotten asset class.  The shiny yellow metal doesn't get the same amount of coverage in the media these days. 
I guess that's what happens when gold prices fall by 20%… nobody wants to talk about it anymore. 
It's hard to get too excited about gold when GLD has fallen 21% over the last two years while the S&P 500 has gone up 42% over the same time.
Needless to say, investing in gold has lost some of its luster.
Here's the thing…
Gold is acting like a safe haven should when stocks are in a bull market.  If gold moved in lockstep with equities, it wouldn't be a safe haven.
I believe investors should allocate 5% to 10% of their assets to gold.  It's a hedge against another meltdown in the financial system or some other unknown chaos.  And it's something that lets me sleep a little better at night. 
Outside of my long term holdings that I never touch, I also like to use gold ETFs as trading vehicles.  I'll even use options on GLD to express a short term view on gold prices. 
I like to trade them because they follow the rules of technical analysis so well.  And for good reason, there really isn't a fundamental story for gold. 
Gold doesn't have any earnings.  There aren't sales. You're never going to wake up one morning and find out gold prices have been cut in half because they missed their quarterly earnings estimate.
Of course gold can react to macroeconomic news, but for the most part, the price of gold is based solely on the value we perceive it has.  And when you get right down to it, technical analysis is about predicting human behavior.
On the other hand, individual gold miner stocks can be influenced by the company specific fundamentals. 
However, ETFs like Market Vectors Gold Miners (GDX), Market Vectors Junior Gold Miners (GDXJ), and Global X Gold Explorers (GLDX) that hold a basket of stocks typically end up moving in lock step with gold prices. 
The diversification of the entire basket of stocks largely eliminates company specific risk.  And they usually end up tracking the price of gold as well.
Right now there's an opportunity for a short term trade in the most speculative of the gold mining ETFs – GDXJ and GLDX.
These ETFs hold small gold mining and gold exploration companies.  And they've taken a big hit this year.  GDXJ is down 48% and GLDX is down 53% year-to-date.
However, they've both put in a double bottom over the last five months.  And they've jumped 10% over the last week.  I think they could easily run up another 15% – 20% over the next month or so.
If you're looking for a speculative short term trade, take a look at buying some cheap out of the money options on GDXJ or GLDX that expire in January.  If these speculative ETFs continue to run, you could easily double or triple your money before Christmas.
Good Investing,
Corey Williams
Category: Commodity ETFs, ETFs