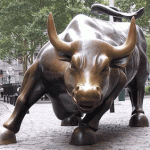 Is it a good time to invest in stocks?
That's one of the questions I get asked the most. And during the last five years, it has been easy to say – Yes!
But with stocks in a five year bull market and pushing to new highs again, I had begun to question whether it was still a good time to invest in stocks.
Sir John Templeton was one the most successful investors the world has ever known. His pioneering work with mutual funds reshaped the financial world and made him very wealthy.
And his observations about the market are still practical today.
One of my favorite quotes of his goes something like this… "Bull markets are born on pessimism, grow on skepticism, mature on optimism, and die on euphoria."
That's certainly true about the current bull market. It began in 2009 when investors were pessimistic – to say the least.
Stocks have continued to move higher over the last five years while most people remain skeptical about the market and the economy in general.
Now we are moving into the optimism phase of recovery. In other words, we are just now entering into the time when the bull market will begin to mature.
The way I see it, that means it's time for a bit of an adjustment to the way things have operated in corporate America during the last five years. The period of EPS growth without investing in the future or their employees is ending.
This adjustment is likely to cause an increase in volatility on Wall Street. But ultimately these changes will result in a healthier economy, stronger revenue growth, and higher stock prices.
Optimism about the economy and the stock market will reach a level of euphoria like it did in the 1990s at some point in the future. I remember reading books about the "new normal" and crazy theories about why there would never be another recession again.
Needless to say, we're still a long way away from euphoria today.
So, yes it is a good time to buy stocks. Even if you've been on the sidelines during the bull market, it's not too late.
You can start with adding exposure to the entire US large cap market by buying an ETF like the SPDR S&P 500 (SPY). This one ETF will get you off the sidelines and into the game.
Once you've done that, you can take a look at the Sector ETF Trader. It's my monthly investment advisory that recommends specific ETFs.
In short, I buy into specific sectors that are in favor with investors, and sell those that aren't.  This type of sector rotation strategy has shown itself to be very profitable in just about any market condition.
Now that we're entering into the maturation phase of the bull market, I'm expecting the gap to widen between the ETF winners and losers.
Good Investing,
Corey Williams
Category: ETFs, Sector ETFs