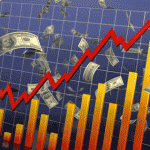 Stocks are moving higher in the wake of the midterm elections. As expected, the Republican Party took control of the Senate.
Investors are clearly breathing a sigh of relief that the outcome didn't create any additional uncertainty or volatility in the market.
What's more, the ADP employment report shows the US added 230,000 more jobs in October. The stronger than expected jobs report is spurring the S&P 500 to new highs.
Let's take a look at three ETFs that are leading the market higher…
SPDR S&P Biotech ETF (XBI)
XBI has been one of the top performing US stock ETFs over the last month. At a current price of $168.78, XBI is up 9.74% this month and it's up an eye-popping 31.90% so far this year.
As the name suggests, XBI invests in stocks that are in the biotechnology industry. It currently holds 84 stocks that are equally weighted. It has a dividend yield of 1.00% and an expense ratio of 0.35%.
The biotech ETF is surging higher after breaking out of a bullish Cup & Handle chart pattern. The chart pattern is one of the most widely followed chart patterns. It becomes bit of a self-fulfilling prophecy when a chart pattern becomes widely followed.
Needless to say, the chartists are helping propel XBI to new heights.
PowerShares S&P SmallCap Utilities Portfolio (PSCU)
PSCU is a relatively obscure ETF. This ETF has a meager $40 million in assets under management. That's not surprising given the fact that it tracks the small-cap utilities sector.
Right now PSCU has 20 holdings. These are the only utilities stocks that are in the S&P SmallCap 600 index. And for good reason… most utilities stocks have market capitalizations that are far too large to be considered a small cap stock.
Nevertheless, PSCU has been on a nice run over the last month. At a current price of $38.40, it's up 12.80% during that time. In fact, the recent rally accounts for nearly all of the 14.42% yearly gain.
This ETF has a dividend yield of 2.49% and an expense ratio of 0.29%.
Investors continue to flock to utilities stocks for their safe and secure dividend payments in the current low interest rate environment. And until we get proof rates are going up, the sector should continue to attract investors that are hungry for income producing assets.
SPDR S&P Transportation ETF (XTN)
XTN is another ETF that's been hot this month. The 8.72% surge this month has pushed the shares up to a price of $100.04. It's now up 23.41% year-to-date.
This ETF tracks an index of 49 US transportation stocks that are weighted equally. It has an expense ratio of 0.35%.
The transportation industry has gotten a boost from falling oil prices. Obviously fuel is a major expense for any transportation company. So the drop in oil prices should translate to lower expenses and higher profits for the industry.
Here's the upshot…
Bullish momentum has clearly taken control of the market. XTN, PSCU, and XBI are three of the hottest ETFs that hold US stocks right now. And they should continue to be among the market leaders as long as the bullish momentum lasts.
Good Investing,
Corey Williams
Category: ETFs, Sector ETFs