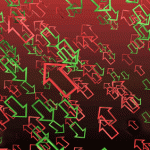 Today we're taking a look at ETF fund flows in iShares Dow Jones US Real Estate (IYR), SPDR Gold (GLD), and Market Vectors Junior Gold Miners (GDXJ).
ETF fund flows are a valuable indicator of what traders are thinking.  It takes a lot of buying or selling to drive millions of dollars into or out of individual ETFs.
They're something traders use to find trends and gauge investor sentiment.  And it can help you pinpoint which ETFs could be next to make a big move higher or lower.
Let's take a look the leading ETFs in net inflows and net outflows from June 24th to June 28th.
iShares Dow Jones US Real Estate (IYR) led all ETFs with $743 million in net inflows last week.
The popular REIT ETF was down a whopping 17% from the high of $76.21 on May 22nd as investors worried about the impact of higher interest rates on real estate values.
IYR has rebounded more than 5% off the lows as better than expected new and pending home sales helped calm investors' fears.
However, the chart of IYR has sustained major damage to the bullish technical setup that was driving prices higher over the last few years.  The recent selloff has turned the technicals from bullish to outright bearish!
You see, IYR plunged below the 200-day moving average during its recent 17% free fall from the recent highs.  This technical level is the brick wall of moving averages.  And now that IYR's below the 200-day, it will have a hard time crossing back over this level to the upside. 
In fact, the recent 5% rally in IYR looks like a dead cat bounce to me.  And we'll likely see IYR turn lower in the days ahead.
Gold ETFs were once again among the biggest losers.  The SPDR Gold (GLD) saw $841 million go out the door and the Market Vectors Junior Gold Miners (GDXJ) saw investors dump $835 million.
The outflow isn't surprising considering gold prices fell to $1,200 per ounce for the first time since 2010.  In other words, anyone who bought GLD anytime in the last two and a half years is now losing money on their investment.
But they're not the only ones losing out…
As gold prices fall, the junior gold miners become more risky.  In fact, there's a good chance that even if they've found gold, they won't be able to get it out of the ground at a profit. 
Capital for junior gold miners will dry up quickly if gold prices don't rebound quickly.  And without new capital, we'll likely see many of the junior gold miners go belly up.  
That wraps up this week's ETF fund flows…
Keep in mind, there's a lot of information about ETF fund flows.  And it can be a very useful tool as long as you know what you're looking for.
Good Investing,
Corey Williams
Category: Commodity ETFs, ETFs, Index ETFs, Sector ETFs