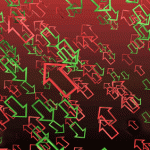 In the holiday shortened trading week, investors began to rotate money into sectors they believe have the most upside.  They also trimmed their positions in ETFs with exposure to broad US stock indexes like the S&P 500 and Russell 2000.
Fund flows are a valuable indicator of what traders are thinking.  It takes a lot of buying or selling to drive millions or even billions of dollars into or out of individual ETFs.
Fund flows are something traders use to find trends and gauge investor sentiment.  And it can help you pinpoint which ETFs could be next to make a big move higher or lower.
The Energy Select Sector SPDR (XLE) led all ETFs with $683 million in net inflows last week.  The influx of money comes at a time when energy stocks have begun to lead the markets higher. 
Rising oil prices are helping to fuel the bullish momentum in XLE.  The price of a barrel of oil is near the 2014 highs above $104. 
It's not surprising to see energy stocks perform well when oil prices are on the upswing.  But that's not the only reason energy stocks are doing well…
According to Barclays, spending on North American oil and gas production is accelerating.  Producers are expected to increase spending by 7% this year after two years of sub 5% growth. 
This should lead to higher prices and better profitability for energy companies that specialize in drilling and fracking of new wells. 
In short, XLE is quickly becoming the hottest US sector.   
The bullish momentum in energy comes at a time when investors are dialing back the exposure to US stocks.  Last week the SPDR S&P 500 (SPY) led all ETFs with $4.3 billion in outflows.
The massive outflow of money from SPY comes right before the heart of the quarterly earnings season.  161 of the stocks in the S&P 500 will report earnings later this week.
Analysts are expecting overall S&P 500 earnings to decline in the first quarter.  The pessimistic outlook is likely one of the reasons for the recent outflow from SPY. 
However, if companies are able to beat the lowered estimates, we'll likely see the fund flows reverse and money come flooding back into SPY and other US stock ETFs.
One way or another, earnings season will set the tone for the S&P 500's next move.
That wraps up this week's ETF fund flows…
Keep in mind, there's a lot of information about ETF fund flows.  And it can be a very useful tool as long as you know what you're looking for.
Good Investing,
Corey Williams
Category: ETFs, Market Analysis, Sector ETFs
Corey Williams is the editor of Sector ETF Trader, an investment advisory service focused on profiting from ETFs and the economic cycle. Under Corey's leadership, the Sector ETF Trader has become one of the most popular and successful ETF advisories around. In addition to his groundbreaking service, Corey is the lead contributor to ETF Trading Research, where he shares his insights about ETFs and financial markets three times a week. He's also a regular contributor to the Dynamic Wealth Report and the editor of one the hottest option trading services around – Elite Option Trader.