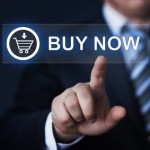 Stocks are off to a dreadful start in 2016.  The S&P 500 is down 11% from the 52-week highs.  It's not even close to the 20% drop needed to be an official bear market.
Yet, you can't read, watch, or listen to anything about the financial markets without hearing about how stocks are headed for a bear market.
Economic Data Impacting Sector ETFs To Buy In January
Oil and China pose the greatest risks to stocks.
The price of a barrel of oil fell below the lows from 2009.  It fell below $30 for the first time since 2003.
The massive drop in price is sending shockwaves through the energy, industrial, and financial sectors that made huge investments when a barrel of oil was selling for around $100.
China's stock market is already in a bear market.  In fact, the Shanghai Stock Exchange has shed more the 40% of its value since topping out in June.
Economic data show that growth is continuing to slow in China. They had been the major growth engine in the global economy for the last decade.
Now they're not… and investors are struggling to pinpoint what will replace China as the next catalyst for the global economy.
Price Action Signals Sector ETFs To Buy In January
The recent price action of the S&P 500 only strengthens the bears' argument.  It's in the midst of a 2nd 10% correction in the last five months.
We don't see multiple corrections of this magnitude in such a short period of time very often.  The last time it happened was 2008… right at the beginning of the last bear market.
And here's another ugly data point for the S&P 500.
The 10-month moving average just crossed below the 20-month moving average.  The last it happened?  Yep, it was 2008.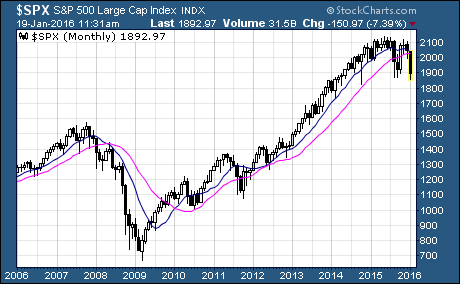 About half of the stocks that make up the S&P 500 are down 20% from their 52-week highs.  The materials and energy sectors are already down more than 20% and in bear market territory.
The financial and industrial sectors aren't doing much better.  They're both down more than 15% and could easily fall into bear market territory.
And to make matters worse, the Fed seems oblivious to it all.  They haven't backed off their calls for four interest rate hikes in 2016.
Once again, the Fed finds themselves on the wrong side of the economic data.  Their forecasts that extrapolate what has happened in the recent past are wrong so often that it's mindboggling why anyone pays any attention to them.
The increased risk from China and falling oil prices, in combination with the Fed that is no longer going to support the market with free money, has crippled investor psychology.
As I've talked about time and time again, investors are driven by emotions.  We often see their investment decisions driven by fear or greed.   More often than not, they're either overly optimistic or way too pessimistic.
Right now fear is dominating the recent market action. 
Needless to say, that's a difficult environment for us when we are scheduled to recommend an ETF every month that only profits when the underlying stocks go up.
But there is hope.  Earnings season is getting into full swing this week.  We've seen profit estimates slashed for the S&P 500 over the last few months.  Here's one ETF with the potential to beat those lower estimates and move higher in the weeks and months ahead.
These Are The Sector ETFs To Buy In January
Identifying industries with positive macroeconomic themes is a critical part of the Sector ETF Trader strategy.
Sector ETF Trader identifies high-return potential ETFs based on a number of macro, fundamental, and technical indicators.  These indicators offer you the opportunity to participate in some very large moves in a relatively short amount of time.
And because it focuses on ETFs, you get the advantages of both stocks and mutual funds, without the problems of high fees and over-concentration.
Rather than taking a 'shotgun' approach to the market, I use a time-tested system like a scalpel to carve out those 'hidden gems' with the greatest chance of spectacular profits.
You can develop an ETF trading system like mine or you can let me do the heaving lifting for you.
It's not too late to pick up the most recent issue of the Sector ETF Trader.  But you'll need to take action now to avoid missing out.  Click this link to find out more about this easy method to identifying the most profitable sector ETFs around!
Good Investing,
Corey Williams
Note: Corey Williams writes and edits ETFTradingResearch.com.  Sign up for our free ETF reports and free e-letter at http://www.etftradingresearch.com/free-sign-up.  We're devoted to helping you make more money from ETFs.
Category: Sector ETFs