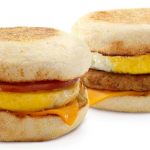 McDonald's $MCD reported upbeat financial results for the 4th quarter.  After years of struggling to find sales growth, the fast food giant's turnaround has investors hungry for more.
The company's same-store sales grew 5% worldwide. And same store sales comparisons show US sales grew 5.7% in the 4th quarter.  The jump in sales is largely due to the introduction of breakfast items being available all day.
In 2015, MCD's revenue increased 3% to $25.41 billion and they earned $4.80 per share.
The stock is now up 24% in the last six months and 35% over the last year.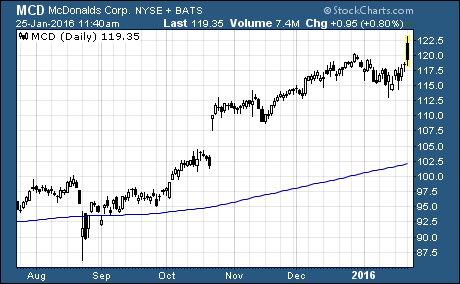 Let's take a look at some ETFs with exposure to McDonald's….
Here Are 3 ETFs With Exposure To McDonald's Stock… 
PowerShares Dynamic Leisure and Entertainment ETF $PEJ has more than 5% of its assets allocated to MCD.  This ETF tracks an index of equal-weighted entertainment and leisure industry stocks.  It tries to pick stocks that will have above average performance.  It has a high expense ratio of 0.63%.  The ETF has about $183 million in assets.
SPDR SSgA Risk Aware ETF $RORO has 5.7% of its holdings dedicated to MCD.  This ETF is actively managed.  Its only actively managed total market fund.  The portfolio is adjusted based on the managers' assessment of current and future risk appetite.  It has an expense ratio of 0.50%.  It only has $1.75 million in assets.
Consumer Discretionary Select Sector SPDR $XLY has 4.77% of its holdings in MCD.  That's the fifth largest holding for this popular market cap weighted ETF of consumer discretionary stocks in the S&P 500.  It has an expense ratio of 0.14% and more than $10 billion in assets.
Other Holdings Of ETFs With McDonald's Stock… 
PEJ holds 30 stocks including MCD, Delta Air Lines $DAL, Priceline $PCLN, and Starbucks $SBUX.  This ETF is down about 9% over the last year.  The hefty price tag for an ETF designed to pick and hold good stocks hasn't paid off for investors.
RORO currently holds 52 stocks of mostly US based companies.  You'll find the likes of Dollar Tree $DLTR, AutoZone $AZO, Wal-Mart $WMT, and even Berkshire Hathaway $BRKB among the top holdings.  This ETF competes for money from investors looking for a single ETF to give them stock market exposure.  But the $1.75 million in assets tell the story… investors aren't buying into this investment.
XLY is part of the popular Select Sector SPDRs from State Street.  It holds 89 consumer discretionary stocks that are in the S&P 500.  This includes stocks like Amazon.com $AMZN, Home Depot $HD, and Walt Disney $DIS.
More ETFs Holding McDonald's Stock… 
MCD's all-day breakfast has investors hungry for a return to profitable growth.  The turnaround that started last year has the potential for MCD to reclaim its former glory that made this stock the $108 billion market-cap success.
You can find even more ETFs with exposure to Amazon stock using an ETF screener.
Good Investing,
Corey Williams
Note: Corey Williams writes and edits ETFTradingResearch.com.  Sign up for our free ETF reports and free e-letter at http://www.etftradingresearch.com/free-sign-up.  We're devoted to helping you make more money from ETFs.
Category: Sector ETFs
Corey Williams is the editor of Sector ETF Trader, an investment advisory service focused on profiting from ETFs and the economic cycle. Under Corey's leadership, the Sector ETF Trader has become one of the most popular and successful ETF advisories around. In addition to his groundbreaking service, Corey is the lead contributor to ETF Trading Research, where he shares his insights about ETFs and financial markets three times a week. He's also a regular contributor to the Dynamic Wealth Report and the editor of one the hottest option trading services around – Elite Option Trader.