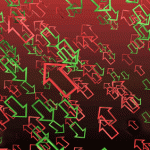 So far, 2013 has been a great year for stocks.  The S&P 500 is up more than 25%.
Every US sector has posted solid gains this year.  The worst performing sector so far this year is utilities stocks that are up 15%.  And the best performing sector is consumer discretionary stocks that are up 35%.
Interestingly, every sector has lead or outperformed at one time or another this year.
As we move into the last few months of 2013, investors want to know which sectors will be the top performers.
ETF fund flows are a valuable indicator of what traders are thinking.  It takes a lot of buying or selling to drive millions or even billions of dollars into or out of individual ETFs.
Fund flows are something traders use to find trends and gauge investor sentiment.  And it can help you pinpoint which ETFs could be next to make a big move higher or lower.
Let's take a look at the US sector ETFs that experienced large inflows or outflows last week…
Last week investors pulled money out of ETFs focused on technology, financial, retail, and utilities sectors.  The Technology Select Sector SPDR (XLK) took the biggest hit.  Investor pulled $685 million out of XLK last week.
XLK has underperformed the S&P 500 this year with an 18% gain year-to-date.  The main reason XLK's weak performance is the large percentage of holding allocated to Apple (AAPL).
AAPL has limped its way to a 10% loss so far this year.  And it currently makes up nearly 15% of XLK.  Needless to say, AAPL has been a strong headwind for this technology ETF.
XLK and AAPL managed to regain some positive momentum over the last few months.  AAPL has rallied 37% off the 52-week low of $380.06 and helped lift XLK.  But AAPL is now just below a key technical resistance level.
The large outflow out of XLK is a clear indication investors don't think technology stocks will be the sector to lead the markets higher through the end of the year.
On the other hand, US sector ETFs focused on consumer staples and energy saw inflows outpace outflows by a wide margin last week.
Consumer Staples Select SPDR (XLP) led the way with $986 million in net inflows.
XLP was one the top performing ETFs over the first five months of the year.  From January 1st to May 15th, XLP soared 20% to a high of $42.20.
But over the last five months, XLP has been one of the weakest sectors.  Over that time, XLP chopped around between $40 and $42.
Any time XLP appeared to gain some momentum, it failed to set a new high and fell back.  Then on October 28th, XLP finally broke through and made a new high.
Not surprisingly, the breakout was accompanied by large spike in volume.
This fits the pattern we've seen play out over and over again this year.  The market leadership and sector outperformance appears to be changing hands again.
The large inflow of money into XLP is a clear indication investors are looking to consumer staples as the sector that could lead the market into the end of the year.
That wraps up this week's ETF fund flows…
Keep in mind, there's a lot of information about ETF fund flows.  And it can be a very useful tool as long as you know what you're looking for.
Good Investing,
Corey Williams
Category: ETFs, Sector ETFs