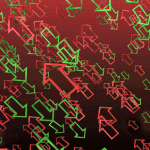 September continued the previous month's turbulent market conditions.  Global market woes and domestic concerns on raising interest rates had investors weary.
Despite the market turbulence, September ETF Fund Flows held steady.  Total assets invested in US listed ETFs ticked up $2.7 billion during the month.
Don't get me wrong, that's a fraction of the inflows we have seen in previous months.  And that's a good indication of…
The Emotion Driving September ETF Fund Flows
Once again, we see fear as the emotion driving the market.
There are a variety of indicators we use to track the emotional state of the market.  We can look at put and call options, stocks and bond performance, and the strength of stock price just to name a few.
All of these indicators are pointing to one thing… investors are scared of where the market is heading.
Let's take a look at stock price strength.
The number of stocks hitting 52-week lows exceeds the number hitting highs and is at the lower end of its range, indicating fear.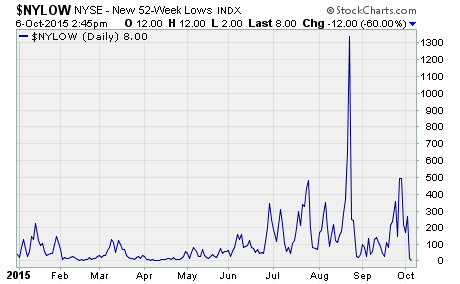 As you can see, there are far more stocks on the New York Stock Exchange hitting new 52-week lows than we had seen earlier this year.  This is a clear visual representation of fear in the markets.
ETFs With The Largest Inflows In September 
Despite the fear in the markets, ETFs like Vanguard S&P 500 $VOO and SPDR S&P 500 $SPY still logged net inflows of around $1.5 billion in August.
This tells me a few things…
Even with the fearful tone of the market, investors continue to have faith in large cap US stocks.  Investors are still willing to put money into large US companies with market capitalizations greater than $10 billion.
These companies do business globally, have solid balance sheets, and often pay dividends. Although they are perceived to be slow growing, this tends to make the stocks more stable in a volatile market.
These ETFs are a good option for the investor that wants to see a steady return and ride out the turbulent market.
ETFs With The Largest Outflows In September
The outflows also gave us some relevant market indications.
Investors are dumping their investments in biotech and gold miners industries.  This isn't surprising due to the negative news about biotech companies and gold prices.
Two ETFs hit hardest by redemptions were the Health Care Select SPDR $XLV and Direxion Daily Gold Miners Bull 3X $NUGT.
Here's the bottom line…
Stocks have been caught up in a negative feedback loop.  Bad news drives down prices.  Then price declines themselves become part of the bad news hurting stocks.  Don't forget, high levels of fear don't typically last long outside of bear markets.
Keep an eye on investor sentiment for signs of improvement.  If the negative feedback loop is broken, it could catapult stocks higher in the 4th quarter.
Good Investing,
Corey Williams
Note: Corey Williams writes and edits ETFTradingResearch.com.  Sign up for our free ETF reports and free e-letter at http://www.etftradingresearch.com/free-sign-up.  We're devoted to helping you make more money from ETFs.
Category: Market Analysis