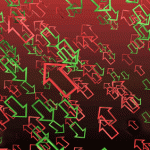 Today we're taking a look at ETF fund flows in SPDR S&P 500 (SPY), iShares Russell 2000 ETF (IWM), and SPDR S&P MidCap 400 (MDY).
ETF fund flows are a valuable indicator of what traders are thinking.  It takes a lot of buying or selling to drive millions or even billions of dollars into or out of individual ETFs.
Fund flows are something traders use to find trends and gauge investor sentiment.  And it can help you pinpoint which ETFs could be next to make a big move higher or lower.
Let's take a look at the ETFs that experienced large inflows or outflows last week…
Over the last week, the SPDR S&P 500 (SPY) had the most net inflows of any ETF.  SPY collected $4.5 billion in new capital.
Investors poured money into SPY as lawmakers in Washington DC reached a budget deal early last week.  The move will prevent another government shutdown.
As the week progressed, the flows into SPY slowed as the optimism about a functioning government gave way to fears about the Fed beginning to taper its monetary stimulus.
At this point, a modest reduction in $85 billion per month bond purchase program is already baked into the cake.  But I'm not convinced the Fed will taper in December.
You see, the Fed is looking at three key points – unemployment, GDP growth, and inflation.  They want unemployment to come down, growth to accelerate, and inflation at 2%.
The latest data show only 2 out of the 3 metrics are moving the way the Fed wants.  Unemployment and economic growth have improved in recent months.
But inflation, as measured by the personal consumption expenditures (PCE), is well below the Fed's 2% target.  In fact, headline PCE fell to 0.74% in October from 0.95% in September.
Simply put, it would be unusual for the Fed to reduce stimulus intended to boost inflation at a time when inflation is below their target and falling.  If the Fed decides to continue their stimulus program at its current pace at the FOMC meeting this week, we'll likely see strong inflows into SPY again this week.
The ETFs that had the biggest outflows last week were iShares Russell 2000 ETF (IWM) and SPDR S&P MidCap 400 (MDY).  In total, they lost $797 million last week.
It was the second week in a row IWM showed up on the list of the largest outflows.  The small cap ETF is now 3% below its all-time high $114.16 it reached November 29th.
Here's the thing, the correction in IWM over the first two weeks of December has pushed it down against support of the upward trending price channel.
Needless to say, that makes this week's price action in IWM very important.
The bulls need to step in here and push IWM higher or risk a break in support triggering a much bigger correction.  I don't anticipate the bulls letting that happen.  And we could see the fund flows in IWM and MDY reverse this week as they begin to move higher.
That wraps up this week's ETF fund flows…
Keep in mind, there's a lot of information about ETF fund flows.  And it can be a very useful tool as long as you know what you're looking for.
Good Investing,
Corey Williams
Category: ETFs, Market Analysis