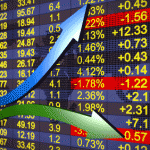 I spend a lot of time looking at stock charts.
The stock screener I use has a chart, current fundamental data, and recent news right in one easy to view page. So, even if I'm looking for fundamental data or a recent news item about the stock, I still end up looking at the chart.
One thing that's been clear for some time is the roll a company's market-cap has played in its performance.
Time after time I've looked at different companies in the same sector, industry, and in the same line of business as one another.   The stocks often have similar fundamental data.
The only distinguishing factor is their size of the company or market capitalization. Yet, the stock performance this year has been wildly different for large-cap stocks than it mid- and small-cap stocks.
Take a look at these charts showing the year to date performance of the large cap SPDR S&P 500 (SPY), SPDR S&P MidCap 400 (MDY), and iShares Russell 2000 Small-Cap ETF (IWM).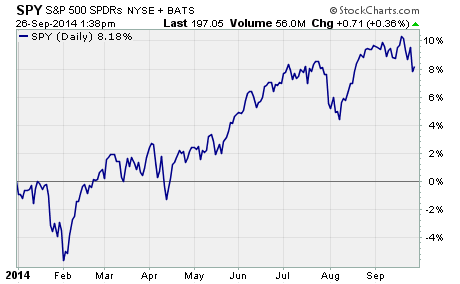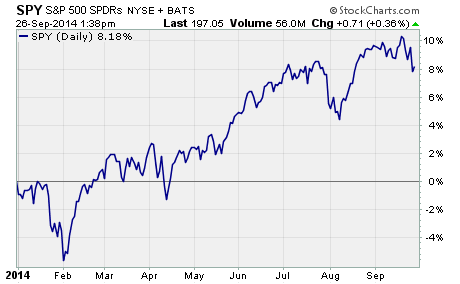 As you can see, SPY has been trending higher throughout the year and it's currently up about 8% YTD.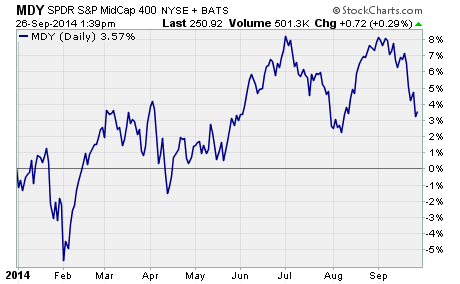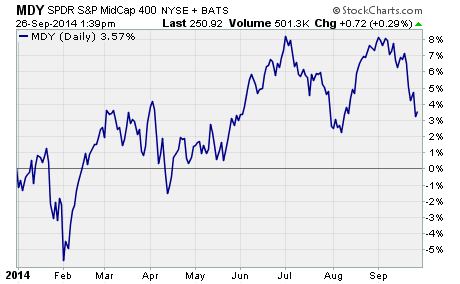 MDY has also been trending higher this year… but at a slower pace. It's currently up a little more than 3%.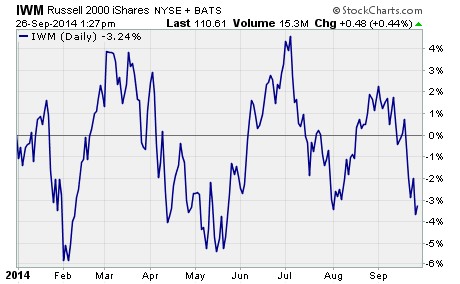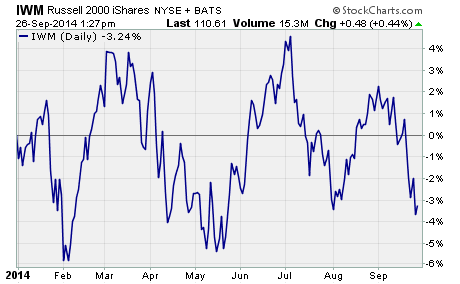 And finally we have IWM, the small-cap ETF.   It's had an up and down year and it's clearly not in an uptrend like SPY or MDY and it currently down 3.6% so far this year.
I've been looking into why small-cap stocks have been underperforming relative to large-cap stocks and there are lots of opinions on the subject.
Some point to the fact that small-caps are more expensive based on earnings per share. Others say small-caps are just more volatile than large caps.
And those can certainly play a role in their performance. But the reason I see as the biggest driver of the underperformance of small-cap stocks relative to large-cap stocks is stock buybacks and M&A activity.
Simply put, large companies have more money and power to engineer per share earnings growth than small companies.  
Large-cap stocks have been aggressively buying back their own stock. And they're using the ultra-cheap corporate debt to acquire companies that are accretive to per share earnings.
Here's the thing…
These stock buybacks and M&A deals that is helping boost large cap earnings today will likely come back to bite them down the road.
Don't forget that the money they're spending on these buybacks could be spent on building the foundation for future revenue and earnings growth.
But they're not building anything… they're piling on cheap debt and driving earnings per share by reducing the number of shares. And while that shows up as 'growth', it's not the same thing as growing the amount of money they make.
Here's the interesting part…
The fact that small cap companies don't have the pile of cash or access to ultra-cheap credit like the really big companies could work out in their favor.
Right now, small cap companies are being punished because they can't grow earnings per share as fast as large cap stocks. And the reason they can't is because they can't buy back their own stock at the same rate as these much larger companies.
The thing small cap companies are doing is investing in their future. They're building their asset base and doing the things that real earnings growth depends on.
Here's the upshot…
Small-cap stocks are out of favor with investors right now because their recent performance hasn't kept up with their large-cap brethren. But when you dig into what's driving the performance of the stocks – it appears that small-cap stocks are the ones doing the things to deliver legitimate long term earnings growth.
Good Investing,
Corey Williams
Category: ETFs, Index ETFs, Market Analysis, What's Going On?