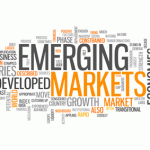 About 80% of the world's population lives in an area that's considered an emerging market economy.  These are countries that have low per capita income and generally less developed than economies in places like the US.
In today's global economy, many of these emerging market countries are opening up their economy and reaping the rewards of faster economic growth.
Investing in stocks from emerging markets comes with the potential for bigger rewards as development drives faster economic growth.
But it also comes with additional risks.  The road from a closed economy to an open global economy is full of twists and turns.  They can, and often do, create massive amounts of volatility in the economy and stock market.
Some of the most popular emerging market countries are Argentina, Brazil, Chile, China, Czech Republic, Egypt, Hong Kong, Hungary, India, Indonesia, Israel, Malaysia, Mexico, Peru, Philippines, Russia, South Africa, South Korea, Taiwan, Thailand, and Turkey.
What's an emerging market ETF?
An emerging market ETF is an excellent way to invest in and profit from faster growing emerging market economies.
These exchange traded funds that track the price and performance of stocks from emerging market countries.
Who should buy an emerging market ETF?
If you're looking for a simple way to get broad exposure to emerging market stocks, then an ETF could be right for you.
Buying one ETF gives you exposure to an entire basket of emerging market stocks.
For example, the most popular emerging market ETF by assets under management is the Vanguard FTSE Emerging Markets ETF (VWO).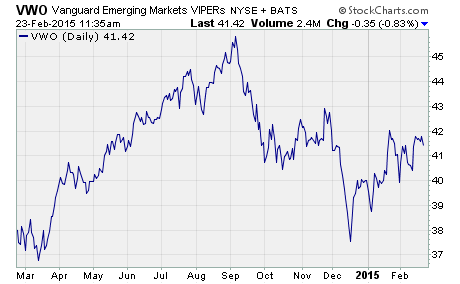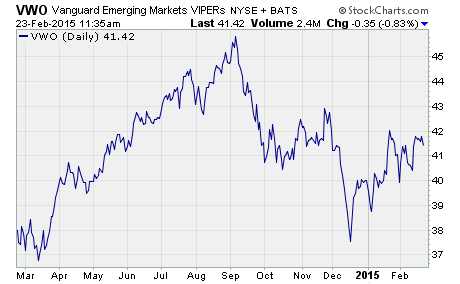 VWO has a whopping $46 billion in assets under management.
It gives investors exposure to a 985 different large and mid-cap stocks from a wide range of emerging market economies.
One of the reasons VWO is so popular is its low expense ratio.  VWO has a very low expense ratio of 0.15%.  That makes it an ideal long term holding as part of an asset allocation strategy.
Most Popular Emerging Market ETF For Traders
If you're a trader that likes to move in and out of investments quickly, or if you use options, then you might be interested in another emerging market ETF.
iShares MSCI Emerging Market Index Fund (EEM) generally has more trading volume and it has a very active options market.
There are also emerging market ETFs that use leverage to amplify the gains and losses from emerging market stocks.  The leveraged emerging market ETF with the most assets is the Direxion Daily Emerging Markets Bull 3x Shares (EDC).
EDC tracks an index of emerging market stocks.  It's designed to move 300% more than the underlying index on any given day.  So it will amplify the profits and losses on your investment in emerging market stocks.
As you can see, there are many different types of emerging market ETFs to choose from.
Here's how you can find even more emerging market ETFs.   
A good first step to investing in emerging markets in to create a list of ETFs.  
With hundreds of emerging market ETFs to choose from, I'm sure you can find one that's right for you.
Good Investing,
Corey Williams
Note: Corey Williams writes and edits ETFTradingResearch.com.  Sign up for our free ETF reports and free e-letter at http://etftradingresearch.com/free-sign-up. We're devoted to helping you make more money from ETFs.
Category: Foreign Market ETFs