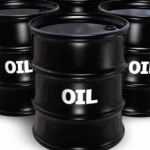 There have been fortunes made and lost investing in oil.
And even if you don't own an oil well, you're probably aware of the fluctuations in oil prices… after all, you see the impact of oil prices every time you fill up your car with gas.
And there's an easy way to invest in or speculate on oil price movements.
What's an oil ETF?
Oil ETFs are exchange traded funds that track the price and performance of oil.  But you don't ever have to own, store, or take delivery of the actual oil.
An oil ETF can come in many shapes, sizes, and be constructed in very different ways.
Some oil ETFs own stocks of oil companies that make money in the oil business.  Other ETFs invest in oil futures and derivative contracts so they track the price of oil.
Who should buy an oil ETF?
If you're looking for a simple way to invest in the oil industry or get exposure to crude oil prices in your investment portfolio, you'll be interested in oil ETFs.
You can buy an entire basket of oil stocks with the purchase of one ETF.
For example, if you buy the SPDR S&P Oil & Gas Exporation and Production ETF (XOP), then you're buying all 83 stocks that XOP holds.  And you're doing it in a single trade.
Another popular oil ETF is the United States Oil Fund (USO).  USO tracks changes in the price of light, sweet crude oil, as measured by the changes in price of the futures contract on light, sweet crude oil traded on the New York Mercantile Exchange.
Buying an ETF like USO or XOP can be done right in your IRA or brokerage account.  And you typically don't need any special permission to trade these ETFs. 
Can speculators trade an oil ETF?
Now, if you're looking to speculate on short term moves in oil prices, leveraged oil ETFs provide investors the opportunity to use leverage to amplify the gains and losses.
Direxion Investments is one ETF provider that specializes in leveraged ETFs.
Their Daily Energy Bull 3x Shares (ERX) and Daily Energy Bear 3x Shares (ERY) give speculators a way to generate profits that are 300% or 3x bigger than the S&P Energy Select Sector Index.
These ETFs is designed specifically for traders looking to make maximum profits in a short period of time.  But beware, the leverage cuts both ways… so your losses will be three times as big if you're wrong.
How do I invest in oil ETFs?
As you can see, there are many different types of oil ETFs to choose from.
Here's how you can find even more oil ETFs.
A good first step in to create a list.
Before you know it, you'll be ready to invest in your first oil ETF.
Good Investing,
Corey Williams
Note: Corey Williams writes and edits ETFTradingResearch.com.   Sign up for our free ETF reports and free e-letter at http://etftradingresearch.com/free-sign-up. We're devoted to helping you make more money from ETFs.
Category: Commodity ETFs