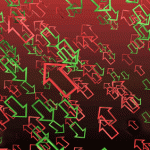 Today we're taking a look at ETF fund flows in SPDR S&P 500 (SPY), iShares Russell 2000 (IWM), and SPDR Gold (GLD).
ETF fund flows are a valuable indicator of what traders are thinking.  It takes a lot of buying or selling to drive millions of dollars into or out of individual ETFs.
Fund flows are something traders use to find trends and gauge investor sentiment.  And it can help you pinpoint which ETFs could be next to make a big move higher or lower.
Let's take a look at the leading ETFs in net inflows and net outflows from July 8th to July 12th.
SPDR S&P 500 (IYR) led all ETFs with an eye-popping $8.3 billion in net inflows last week.  That's a big inflow of cash even for the largest ETF by AUM (Assets Under Management).
It shouldn't come as a surprise… SPY is on the verge of breaking out to a new 52-week high.  And it's up more than 8% from the June 24th low.
And it wasn't just large-cap stocks seeing big inflows.  iShares Russell 2000 (IWM) picked up $1.2 billion in net inflows last week.
The small-cap ETF is leading the markets higher and has already broken out to a new 52-week and all-time high.  IWM is now up 22% year-to-date.
Investors have regrouped after Bernanke's comments indicated QE3 will be ending much sooner than many expected.  And the release of the Fed minutes that showed many FOMC members need to see dramatic employment gains before they'll consider tightening monetary policy helped fuel investor confidence last week.
What's more, better than expected earnings from large banks like JP Morgan (JPM) and Wells Fargo (WFC) are helping to reignite investors' animal spirits.
But it wasn't all good news… Gold ETFs continue to see massive outflows.  The SPDR Gold (GLD) experienced a $900 million net outflow last week.  That brings the year-to-date outflow from GLD to a staggering $19.4 billion.
However, gold has staged a bit of a comeback after falling to $1,200 per ounce a few weeks ago.  But gold prices are still mired in the worst three month slump since futures began trading in 1974.
Clearly, the exodus of retail investors out of gold is continuing even as gold prices attempt to stabilize.  Unless retail investors suddenly buy back into the 'buy gold before the end of the world' theme, there's no telling when gold's steady slide lower will end.
That wraps up this week's ETF fund flows…
Keep in mind, there's a lot of information about ETF fund flows.  And it can be a very useful tool as long as you know what you're looking for.
Good Investing,
Corey Williams
Category: Commodity ETFs, ETFs, Index ETFs